Double worry for England
The FA will announce on Sunday whether Gary Cahill will be fit for Euro 2012 after suffering a jaw problem, with John Terry another injury scare.
Last Updated: 02/06/12 9:41pm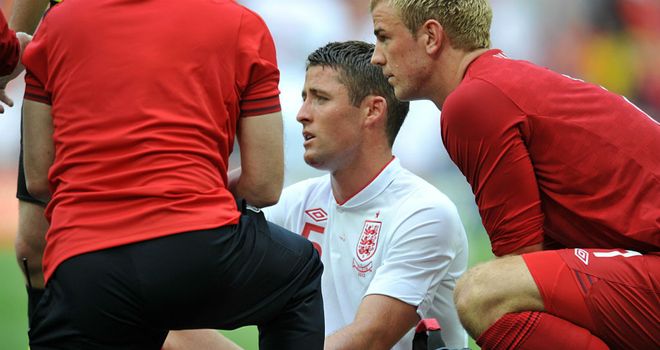 Gary Cahill had to be sent for a precautionary X-ray on his jaw after colliding with Joe Hart during England's match against Belgium and the Football Association will announce on Sunday whether he will be fit for Euro 2012, while John Terry also suffered an injury scare.
Cahill was pushed into his goalkeeper by Dries Mertens in the early stages of Saturday's international friendly at Wembley.
He was treated by physios on the pitch for a minute or two before being substituted by manager Roy Hodgson, with Joleon Lescott coming on in his place.
Cahill missed last weekend's match in Norway after Chelsea's players were granted extra time off following their UEFA Champions League heroics.
The 26-year-old centre-back had recovered from a hamstring problem to feature in the victory over Bayern Munich and has been earmarked by Hodgson as the ideal partner for Terry at Euro 2012.
Hodgson will now be hoping that the scans show no fracture, having already lost Frank Lampard and Gareth Barry from his squad this week.
Terry has also been sent for a precautionary scan after Hodgson revealed he had been 'feeling a bit of a hamstring'.
Hodgson added: "Cahill is slightly more of a concern because it's a jaw injury.
"I am hoping the scan doesn't show a fracture and it will be a bruising situation.
"That wouldn't rule him out of the tournament."
Unhappy with challenge
Hodgson maintains that he will not think about possible alternatives until an announcement has been made on Cahill, although he could be left with a major dilemma about who to select as another defender.
He did bring in Liverpool's uncapped Martin Kelly to train last week when Glen Johnson was struggling with a bruised toe.
Kelly is a clear possibility. However, that would mean Phil Jones covering a central defensive position, with Joleon Lescott the potential partner for Terry when England open their Group D campaign against France in Donetsk on June 11th - even though both prefer to play on the left-hand side of defence.
Another option would be Rio Ferdinand, although the political sensitivities of that are clearly enormous.
Hodgson added: "I wasn't too happy about it (the challenge). 'Unfortunate' is too kind a word.
"When a striker is chasing a defender who is feeding a ball to the goalkeeper, those nudges and pushes take the defender into the goalkeeper.
"It is something if you have been a goalkeeper you take very unkindly to.
"The referee gave him a yellow card, which he deserved. Unfortunately for us, the consequences might be a lot more than a yellow card because a fracture is a distinct possibility."