FA - Rio talk off limits
David Bernstein says England are fully focused on Euro 2012 after landing in Krakow, and do not want to dwell on Rio Ferdinand's omission.
Last Updated: 07/06/12 8:29am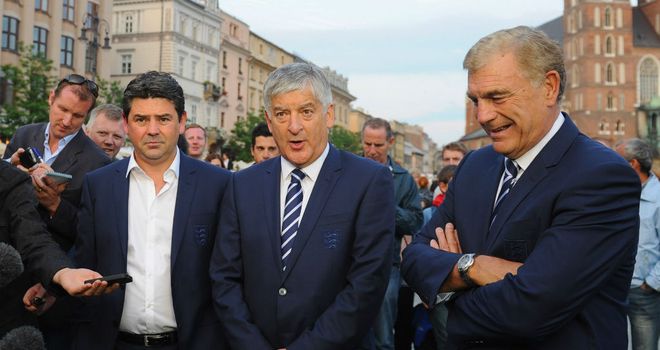 Football Association chairman David Bernstein insisted that England were fully focused on Euro 2012 after landing in Krakow, and do not want to dwell on 'historical issues' such as Rio Ferdinand's omission from the squad.
Roy Hodgson's travelling party arrived at their Polish base on Wednesday evening after flying out from Luton Airport, and Bernstein is adamant that he wants to look forward rather than back.
The decision to call up Martin Kelly following Gary Cahill's withdrawal due to injury had reignited the debate over whether Ferdinand should be preparing for the tournament instead of watching back at home.
Ferdinand's representative has this week accused the FA and Hodgson of showing the Manchester United defender a 'total lack of respect', but Bernstein did not want to be drawn on the subject as he addressed the media.
"Let me be absolutely clear, because I am sure there are going to be other questions about this, that we have spent a long while building up to this tournament and we are here to do the best we can," he said on Sky Sports News.
"We are here to talk about the tournament and the 23 players that are here. I am not prepared to discuss at all any players that are not here.
"We are here to focus on this coming few weeks.
"We all want to maximise our chances of doing well and our focus is on what is ahead of us, not behind us."
Excellent build-up
Asked if questions about Ferdinand would now be off limits, Bernstein replied: "As far as I am concerned, yes.
"There is no point in pressing me. We want to focus on the positives and look forward, rather than dwelling on what are frankly historical, extraneous issues."
Bernstein is upbeat about England's chances at the European Championship after detecting a positive mood in the camp under Hodgson.
He said: "The build-up has been really excellent. The manager has only been on board for a short time but I believe he has done a really good job.
"They have trained very well and there is a very good feel about the squad.
"It is my first tournament but from what I have heard about previous tournaments, there is a very good feel here indeed."