In Wenger we trust
Peter Fraser examines what should become England's increasing dependence on Arsenal.
By Peter Fraser - Follow me on Twitter @SkySportsPeteF
Last Updated: 26/06/12 9:52am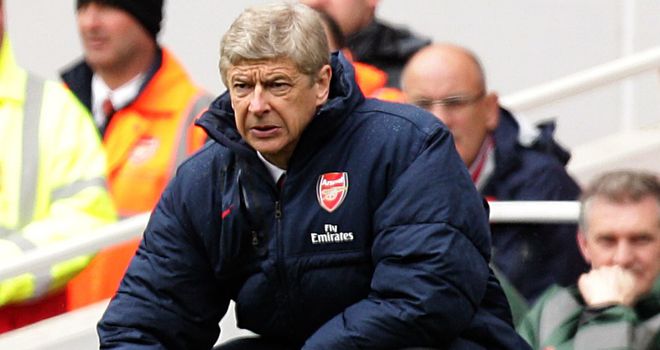 Arsene Wenger has at Euro 2012 been working as a pundit for French television station TF1. Hopefully, the Arsenal manager has been asked one obvious question; what difference would Jack Wilshere have made to England this summer?
Having been humiliated at the 2010 World Cup by Germany, the Three Lions were on Sunday night given another lesson at the finals of an international tournament. They took Italy to penalties in the quarter-finals of the European Championship before being eliminated, but it could quite easily have been an embarrassing defeat in 90 minutes.
At Free State Stadium in Bloemfontein two years ago, counter-attacking was the weapon with which Germany destroyed Fabio Capello's team. In Kiev, it was Italy's Andrea Pirlo-inspired, controlled passing which did the damage to Roy Hodgson's men.
Versus Italy, Hodgson's players had just 32 per cent of the ball. Versus Germany, England actually had a narrow 52% majority of possession. But they had a deficiency in decisive passing. On both occasions, the lesson at international level was the importance of possession and the vital need to avoid wastefulness.
The immaculate performance of Pirlo, who was offered too much time and space as an extra man in midfield, was the ingredient missing from the England team. They persisted in long, hopeful punts towards Wayne Rooney, Danny Welbeck and, latterly, Andy Carroll. The alternative was unsuccessful attempts at gung-ho charges from midfield.
Surprise
A central midfielder who relishes possession and is prepared to pass for 90 minutes has long been missing from the England team. It is a by-product of the Premier League. England's top flight is - in terms of end-to-end, playground adrenalin - the most entertaining in Europe. This is not to be confused with 'the best'. English players who calmly and simply rotate the ball have in the past consequently been described as 'boring'.
Four-time Premier League winner and one-time UEFA Champions League winner Michael Carrick, for example, has long since lost interest in representing England after being treated so shabbily by past regimes. He was an unused substitute throughout the 2010 World Cup. Spain's Xabi Alonso, a world and European champion, has previously described his surprise at the manner in which Carrick has been overlooked by England.
Instead, central midfielders of the likes of Scott Parker are preferred. Brave Scotty, who wears his heart on his sleeve and was named captain under interim England boss Stuart Pearce. But in 352 minutes of playing time at Euro 2012, 31-year-old Parker - supposedly a ball winner - won just four tackles and made two successful passes into the penalty area.
In contrast, in 390 minutes to date, 33-year-old Pirlo - also operating from a deep-sitting midfield position - has made 10 successful passes into the penalty area, has won three tackles, has assisted two goals and has scored one wonderful free-kick. It has been said Parker was overworked as one of just four English midfielders in a 4-4-2 formation. He covered 31,507 metres at Euro 2012. With just 38 additional minutes of playing time, Pirlo has covered 46,294 metres.
It can be argued Parker and Pirlo are a different type of player. But that is the point. Spain and their Tiki-taka are another, and far from new, example the all-round modern midfielder is built on brains and not brawn - players who can tackle, pass and attack.
For several years, England, as they search for their own identity, have represented the spoilt toddler of international-level football. They have all the commodities at their disposal, waste them and look on enviously at their peers. England do have a player who they can build their team around. The future is Arsenal's 20-year-old Wilshere and this time the opportunity cannot be ignored.
Wenger and his club will therefore be of critical importance for England as they look towards the 2014 World Cup in Brazil. Players who are in their thirties cannot suddenly be expected to change their style. Wilshere is the key. He relishes the ball and thrives on possession. If given the correct guidance at a club whose philosophy is based upon passing and patience, he has the potential to become a Pirlo figure for England.
There is nothing particularly revolutionary in this statement. Wilshere has for at least two years been viewed as the man who can structure the England team. He would more than likely have been in Hodgson's first XI if fit. But the dependence of England on Arsenal is growing.
Fingers crossed
The Emirates Stadium club's medical team - doctor Gary O'Driscoll, physiotherapist Colin Lewin, who is the cousin of England's Gary Lewin, and fitness coach Tony Colbert - have a key role to play in helping Wilshere overcome the injury problems which decimated his 2011/12. Hodgson will be desperate to have the midfielder available as soon as possible. But it is not just Wilshere.
Although it is of course not their immediate aim, Wenger, who for the majority of the Noughties was the subject of the Football Association's bedroom eyes, and Arsenal will be a source of overall dependence for England.
Hodgson will have every finger crossed for the raw potential of Alex Oxlade-Chamberlain to be developed in the correct manner. The 18-year-old showed against France both his positives - the element of surprise and ability to frighten defenders - and negatives - the tendency to lose possession and charge down blind alleys. If correctly managed at club level, he can hone those skills.
Theo Walcott, too, is still only 23 years old. The wide-man exhibited why he can be such a dangerous weapon with his excellent display as a substitute, scoring and assisting, against Sweden. But, when introduced after an hour versus Italy, he demonstrated why he can also be such a frustration. Wenger will continue to teach Walcott. Arsenal new-boy Lukas Podolski will also be an excellent role model.
Elsewhere, Arsenal forwards Jordan Brown and Alex Iwobi have been playing for England at Under 16 level, while Elliot Wright and Christopher Regis have been named in the national squad for August's Under 17 Nordic Tournament.
Wenger has always liked to gel younger players if he can. He relishes the chance to nurture players, teach them the basics and watch them grow. The Frenchman would make an excellent guest speaker to aspiring coaches at the Football Association's St George's Park National Football Centre when it opens.
The Gunners under Wenger have for many years been a squad built around foreign imports. But, over the coming years, England are going to become increasingly dependent on North London to develop some of their most promising talent. The links built between Wilshere and Oxlade-Chamberlain at club level could allow England to reap the benefits. In Wenger we trust.