Hodgson looks to youth
England boss Roy Hodgson has explained that he was keen to take a look at some young players in naming his squad to play Italy.
Last Updated: 10/08/12 1:33pm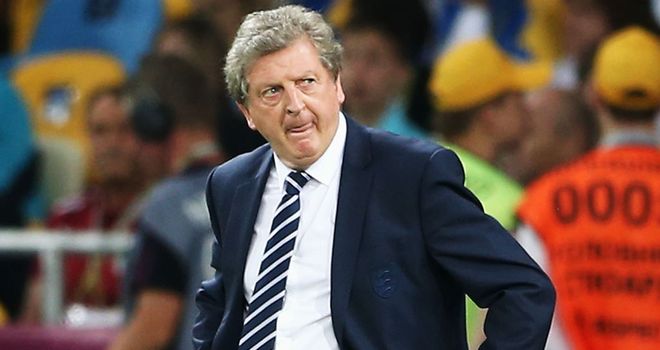 England manager Roy Hodgson has explained that he was keen to take a look at some young players in naming his squad to play Italy on Wednesday.
Tottenham pair Jake Livermore and Steven Caulker earned first call-ups for the friendly in Berne, while senior players such as captain Steven Gerrard, Wayne Rooney and John Terry are left out.
Frank Lampard does return after missing Euro 2012 through injury, while there is also a recall for Michael Carrick, and Hodgson believes it is important to work with the players who missed the summer tournament.
"I think it's very important to get a look at some of the younger players," he told Sky Sports News.
"But it's also important to make sure that the players who should have been with us at the Euros - John Ruddy, Frank Lampard, Gary Cahill - had a chance to come with us on this occasion.
"I still think there's a good balance in the squad. There are plenty of senior players there to start the game for us but it will also be nice to see some of the younger ones.
"There are, I think, nine young players that we want to take a look at and this is the ideal opportunity.
"You don't get many chances when you've got a fairly settled squad to look at other potential candidates and this friendly match gives me that opportunity.
"As a national coach you need every game that you can get to look at players.
"I've left (out) a lot of the players who did extremely well at the Euros - the senior players whose position is in no doubt - to give others a chance."
Difficult
Hodgson is in a difficult position having to name an England squad just days before the Premier League season begins and any selection would risk incurring the wrath of club managers.
But the England manager feels he has done all he could to be even-handed and believes conflicts of interest are inevitable.
"There's no way you can really help the clubs because every club would rather have the players to themselves up to the start of the season," he added.
"But we are one of 80 (national) teams all over the world that needs to play and I'm just hoping the clubs realise I've done my best to keep a balance.
"And of course, in particular, some of these younger players aren't necessarily ones who would start for their clubs anyway."
Memories
Playing Italy in Switzerland brings back many memories for Hodgson, a man who has coached in both countries, and the 64-year-old admits the job is throwing up some intriguing contests for him.
He added: "It seems strange since being given the national team job I seem to be crossing swords with Sweden and Italy - two places that I know very well - and now I go to back to Berne.
"Italy are a good opponent. I think it's important to play top quality opponents. There's not much point for me in playing teams that aren't really going to be able to beat us.
"So we're playing top quality opposition. We did it before the Euros playing Norway and Belgium and we're continuing that line.
"We're playing Sweden later on in the year and we've got a friendly against Brazil so no-one can accuse us of taking the easy route to get a few cheap victories under our belt."