Gerrard feeling positive
England skipper Steven Gerrard believes a successful tournament is not far away as he prepares for his final World Cup campaign.
Last Updated: 07/09/12 6:29am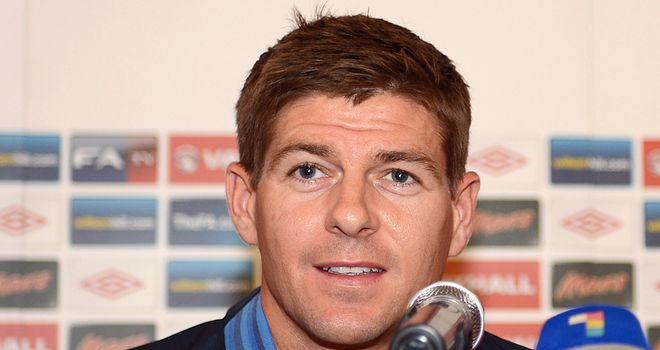 England skipper Steven Gerrard believes a successful tournament is not far away as he prepares for his final World Cup campaign.
Gerrard admits there are lessons to be learned from Euro 2012, when England lost a quarter-final penalty shoot-out to Italy.
But the Liverpool midfielder believes Roy Hodgson's side have every reason to be confident ahead of Friday's group opener in Moldova followed by the home clash with Ukraine on Tuesday.
Gerrard said: "You don't totally get something like Euro 2012 out of your system. It's what you have to live with, disappointments in football.
"It's about highs and lows and you are on the back of a low going out of the tournament on a penalty shoot-out.
"You can't wait for the next important game to come along and thankfully that is here now and to help ease those feelings of disappointment from the summer, six points would be very nice.
Setbacks
"You've got to turn the negatives into a positive. You don't win every game for club and country, you've got to handle setbacks and react to them.
"There are numerous things that the team and the squad need to look at from the summer. There were a lot of positives but negatives as well.
"With Roy in charge and the staff, they will be showing us those pros and cons from the summer and we will try and work on where we went wrong."
England have a strong record in qualifying having lost only one of their last 18 matches and Gerrard believes that shows how close the team are to a good tournament.
Gerrard added: "That record is very impressive and it shows we are not as far away as some people think we are.
"Of course, we've lost on penalties to Italy and they were slightly the better team over 120 minutes, but I don't think the margin between us and the big teams is as big as some people think.
"We believe if we keep learning and improving and don't make the mistakes of the summer, then sooner rather than later we can get a big result against one of these big nations which will be the difference between an unsuccessful and successful tournament."
Excited
The 32-year-old is determined to ensure his last World Cup is a successful one and he is excited by England's chances of doing just that.
He said: "If you are not excited being captain of your country, going into a World Cup campaign with Brazil at the end of it, you are in the wrong game.
"I'm excited, I've got a lot of confidence in my team-mates that we can qualify and then you've got the chance to have a successful tournament.
"It is an exciting time, we've got young players coming through, we've got a good blend of youth and experience, with still your Lampards and Terrys about. I think the future is bright.
"Hopefully I am still in the team in two years' time when Brazil is around and we can have another good go at it."