England captain Steven Gerrard has faith in his side ahead of 2014 World Cup
Steven Gerrard says he is realistic over England's chances of 2014 World Cup success but insists 'miracles do happen'.
Last Updated: 07/09/12 10:42am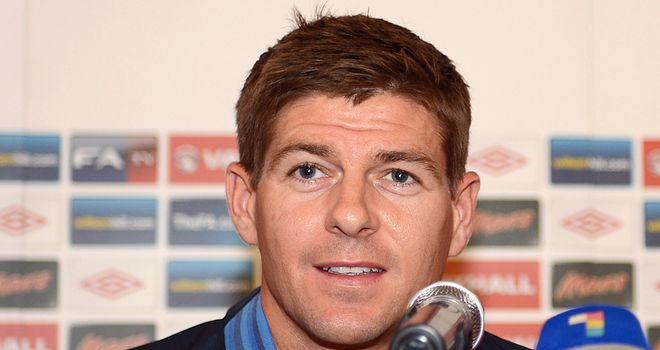 Built up for every World Cup they enter, this time expectations are low.
Part of that comes from yet another tournament when England failed to progress beyond the quarter-final stage, at Euro 2012 this summer.
A rather more sizeable portion is the knowledge that South America, for any European country, is uncharted territory.
Many good European teams have tried and failed. And, despite their present status as third in the FIFA rankings, most do not feel England are a good team.
However, Gerrard, who admits his final tilt at football's greatest prize will begin in Chisinau when England take on Moldova on Friday night, is refusing to abandon all hope.
"I am realistic and honest," he said. "We are not one of the favourites to win the World Cup.
"That doesn't mean you stop believing, working hard to improve, and learning from the mistakes you've made at previous tournaments.
Miracles
"This team has every chance to get better in the next few years, with some players coming through and others with the experience.
"We have to have that faith and keep believing.
"You never stop believing in football. Miracles do happen. It's been proved."
Gerrard insists performance and not age should be the ultimate factor in determining who plays during England's qualifying campaign.
He added: "You should judge players on performances. It doesn't matter how old they are.
"The manager knows who's playing well and who's in form, who deserves to be picked.
"You need to be playing well to stay in this team. I remember reading just before the Euros all the journalists who wanted Paul Scholes back in the set-up, and he was 34 at the time.
"That gives me a few more years! Frank (Lampard) is a top player. He certainly deserves to be in this set-up.
"He's been a top player for a long time and his performances don't seem to be affected to me on him being a year older.
"I judge a player on what I see with my eye, not his age."