England midfielder Michael Carrick is looking to kick-start his international career
Michael Carrick hopes to ignite his England career as he prepares for his first meaningful qualifying game in six years.
Last Updated: 07/09/12 1:23pm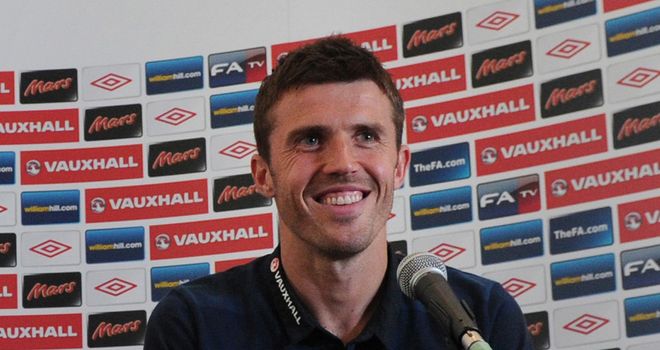 The Manchester United midfielder made his international debut more than a decade ago but is on the brink of what would only be his sixth competitive appearance for his country in England's opening qualifier for the 2014 World Cup.
Carrick's England career could have been over after he informed the Football Association of his decision not to make himself available for Euro 2012.
But he is now back in contention and hoping to help England get off to a positive start in the battle to reach the finals in Brazil.
When asked about his England career being unfulfilled, Carrick said: "There are a number of reasons I suppose. At the end of the day I haven't had the caps but now there is an opportunity for me.
"It's not about making up for lost time because you cannot make up for what has gone on. But it's about looking ahead and trying to get as many caps as I can.
"There is really no point looking back and thinking 'what if and what's gone wrong.'
"It is not through doubting myself, it is just for whatever reason I have not played at the time. That's football. That is the way it goes. No complaints."
Opportunity
Carrick added: "My ego is not that big that I think I should be playing every game for England.
"But it is up to me now to play well enough to stay in the squad and play in the games ahead.
"I could spend a lot of time thinking about it, but I cannot blame everyone else I need to look at me as well and maybe at times I haven't played well enough to get in the team.
"I am not blaming anyone for that. It is what it is and now as I keep saying it is an opportunity to start afresh and look to the future and not keep looking back.
"If I am playing well enough, I am confident I can get in the team but it is up to me to do that and obviously then the manager to pick me.
"I am more than capable when I play well and play at my best to be part of the team."
Carrick is aware he has to make personal sacrifices if he is to make the most of the time left with England.
He said: "I have two children and a wife and they are a big part of my life but how long have I got left (with England)?
"It's hard. It was my little girl's first day at school this week and, going back to the 2010 World Cup, my little boy was born a week before the tournament.
"He was seven weeks old when I got back and I had only seen him for five days.
"That comes into it but I have to put that to one side and make the most of what I have left."
Carrick's only qualifying game since 2006 was the trip to Ukraine in 2009 but that was a dead rubber as England had already booked their place in the 2010 World Cup finals in South Africa.