A case to answer
Former chief exec Mark Palios says the FA were right to pursue proceedings against John Terry.
Last Updated: 24/09/12 9:28am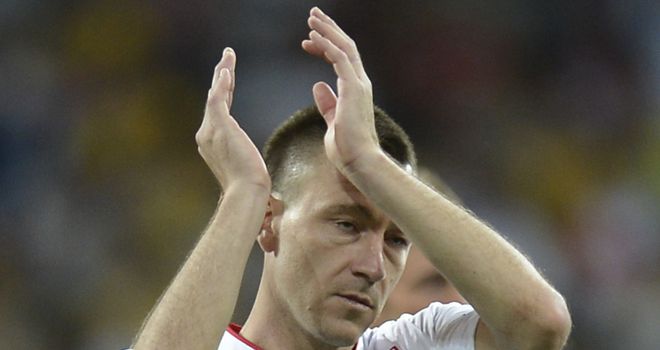 The Football Association were right to continue their disciplinary hearing against John Terry despite it resulting in the defender's decision to quit England, according to former FA chief executive Mark Palios.
Terry, who won 78 caps for his country, announced his retirement from international football last night on the eve of an FA disciplinary hearing into alleged racial abuse of QPR defender Anton Ferdinand during a Premier League clash last October.
The 31-year-old - who has already denied the charge and is set to do so again in person more than two months after being found not guilty at Westminster Magistrates Court - accused the FA of making his position with the team 'untenable'.
But Palios says the FA were right to pursue charges against Terry if they believe he has a case to answer and insists the decision to proceed would have been taken by the disciplinary department alone and not represent an overall policy at the FA.
"Players will take it personally but the national game has a responsibility to follow its due process and they clearly believe, having looked at the evidence, that they can take the thing forward from a disciplinary angle and should take the thing forward. And that is what they are doing," he told Sky Sports News.
"When they took the captaincy away, it was more of a policy decision. With regard to a disciplinary offence it is not the executive - it wouldn't be the chief executive or the chairman - who would be making the decision to go forwards, at least it was not in my time.
"If a decision was made by the disciplinary team to take the issue forwards to a full disciplinary hearing, they would not speak to the chief exec and they would not speak to the executive team. It happens in isolation.
"The unfortunate thing is people see the FA as one body and the players see the FA as the body that selects them as well as the body that disciplines them. They don't see the differences and the division of responsibility within the organisation.
"That is a difficulty and I can understand John Terry's views that it is the same FA taking him through the disciplinary proceedings that asks him to play for England."
Saddened
Palios paid tribute to his service for England said he was saddened to hear of Terry's decision to quit but not shocked given what he has been through in recent months.
"I was saddened rather than shocked because for me John Terry has been an excellent servant for England and I think every football supporter who watches him play in that shirt understand what a contrition he has made as a player.
"If I am honest I am not surprised in as much as I can understand why he feels the way that he feels because he has been through a very hard time.
"He had a criminal charge laid against him; he has been through that process and now the disciplinary process of the FA being taken forwards, which clearly he would not want to happen."