England boss Roy Hodgson insists that Ryan Shawcross's call-up was not due to interest from Wales
Roy Hodgson has insisted that Ryan Shawcross was not handed an England call-up because of recent interest from Wales.
Last Updated: 05/10/12 8:36am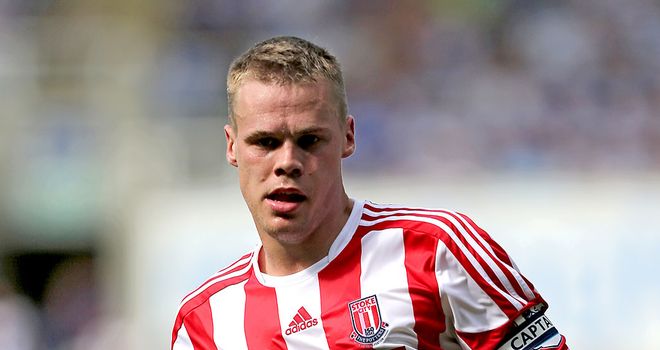 Stoke defender Shawcross has been named for this month's World Cup qualifiers against San Marino and Poland.
Another player considered for the squad was Arsenal full-back Carl Jenkinson -who has also been targeted by Finland.
But Hodgson is adamant that Shawcross's inclusion, together with his confirmed interest in Jenkinson, has nothing to do with the fact both players could switch international allegiance.
"It wouldn't be fair for national teams to 'sign someone up' and try and block them, knowing they don't particularly want them themselves," he said.
"I've called up Shawcross because he has a genuine chance of playing for us and deserves to be in the squad. Wales didn't come into my thinking at all.
"I am aware Finland are after Jenkinson. I spoke to Mixu Paatelainen and he mentioned it. But he's on our radar and someone we're keen to explore.
"Shawcross has been doing well for Stoke over a period of time and Aaron Lennon has started the season exceptionally well. Kieran Gibbs, like Jenkinson, has started very well for Arsenal. On this occasion, we decided to go with him and keep Jenkinson up our sleeves but he'll be very much in our thoughts when it comes to the next friendly match.
"After speaking to Arsene (Wenger) I am also conscious that his rise has been meteoric. He's only 20 and it's nice to temper things a little bit, but he wouldn't be out of place in the squad."
Shawcross's only previous call-up came under Fabio Capello in March 2010, but Hodgson said: "He's captain of Stoke.
"When you captain a team, it shows you have certain qualities and the people running Premier League clubs are not stupid. Like all centre-backs, he'll be accused of overstepping the mark from time to time. But that would be a harsh criticism."