England could leave out Chelsea left-back Ashley Cole after his Twitter rant at FA
Ashley Cole could be left out of the England team to face San Marino following his Twitter rant.
Last Updated: 09/10/12 7:48am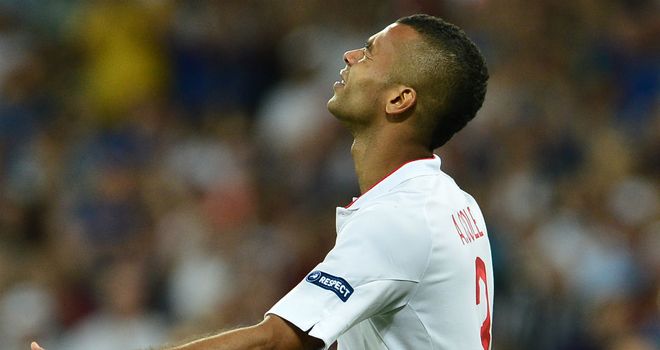 The Chelsea defender slammed FA officials on the site for claiming he had given "unreliable evidence" at the race row case of his team-mate John Terry.
Cole later apologised but the fallout from his outburst has presented a problem for the governing body ahead of a week in which he was set to reach a milestone 100 caps for his country.
England manager Roy Hodgson had paid tribute to the 31-year-old before he became freshly embroiled in the Terry saga, admitting the prospect of him wearing the captain's armband to mark the occasion was "worthy of consideration".
But while Cole will join up with the rest of the squad at St George's Park on Monday, Hodgson is set to leave him out of Friday's match in front of what would likely be a hostile Wembley crowd.
Should he return to win a 99th cap in Poland four days later he may have to wait until February - when Brazil visit for a friendly - to become only the sixth player to reach an England ton.
Chelsea boss Roberto Di Matteo has already confirmed Cole will face disciplinary action from his club, with further punishment expected to follow from the FA itself.
Legend
Earlier in the week, Hodgson had argued that Cole deserved to be put in the same bracket as AC Milan and Italy legend Paolo Maldini.
Asked if he deserved to be mentioned in the same breath as Maldini or England's 100-cap heroes such as Bobby Moore and Billy Wright, Hodgson said: "I think so. Maldini was a one-club man. Not many have done that but Ashley has done it with two.
"He had a long career at Arsenal, where he was considered a fixture, and done the same at Chelsea. They are top names, legends of the past, it must be great to know you are joining that.
"We don't have that Major League Baseball Hall Of Fame in England but these people are our Hall Of Famers."
He added: "For an outfield player, a left-back, to reach 100 caps is incredible and there is no reason why he cannot set his sights higher.
"He's a slim guy, who keeps himself very fit. If he can stay as he is today, who knows where it will take him in the future.
"Knowing Ashley a little bit, I'm sure he is not thinking on those terms - he's thinking of these games ahead of him."