World Cup: San Marino manager Giampaolo Mazza has no fear of England
San Marino boss Giampaolo Mazza is relishing the chance to face England when he takes his team to Wembley on Friday.
Last Updated: 10/10/12 10:19am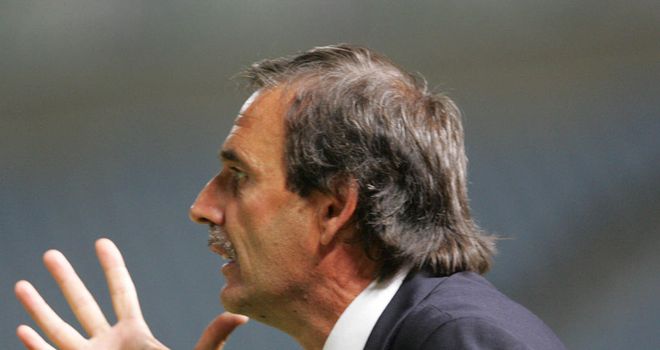 The European minnows will start as massive underdogs against Roy Hodgson's Three Lions in their World Cup qualifier but Mazza does not want his players to be afraid.
Mazza is proud of how such a tiny nation represents itself on the world stage, even if he cannot devote himself to the job full-time as he also works as a PE teacher.
"We all have jobs and that is a big difference compared to all the other nations we play against," he told The Sun.
"Maybe 100 supporters will be on the plane with us but we hope there will be up to 2,000 at Wembley. We also know Scottish and Welsh football fans will all be cheering for us!
"It is a tremendous achievement for San Marino to be playing football. The population is just 33,000 meaning every single person from San Marino could go to Wembley and two thirds of the stadium would still be empty.
"I met Roy Hodgson a few days ago at a conference in Warsaw. He wished us good luck over our tournament.
"To play at Wembley will be amazing. I remember the match in 1993 when we scored after 8.3 seconds.
"When I speak to the players just a few minutes before kick-off, I will tell them to have no fear."
Mazza has become accustomed to tough games during a 14-year spell at the helm but says there have been odd moments to cherish along the way.
He said: "I have been in charge since 1998. I know 14 years is a long time. Many managers, particularly in Italy, do not even last 14 months.
"The most memorable result was a 1-1 draw in Latvia in 2001. It was a World Cup qualifying match and was our first-ever away point. That was a special moment for this country.
"We are now in last position in the world but it is difficult because some countries in other parts of the world are always able to play weaker nations while we have to play against teams like England, Poland and Ukraine in qualifying. It is tough."