Joe Hart backs Wayne Rooney to captain England against San Marino
Joe Hart believes Wayne Rooney is next in line to captain England in Friday's World Cup qualifier against San Marino.
Last Updated: 10/10/12 4:39pm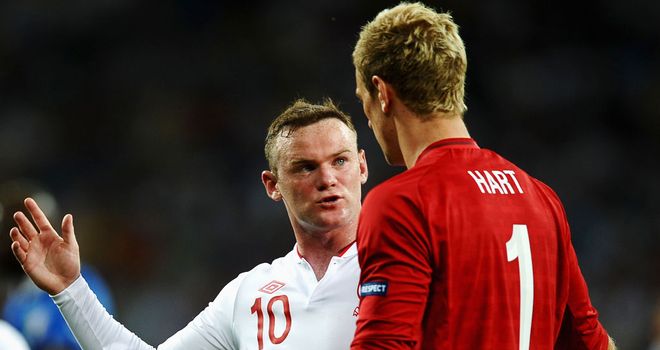 Steven Gerrard is suspended for the Group H game and there are doubts over the fitness of his obvious replacement, Frank Lampard.
Goalkeeper Hart has been mentioned as a possible stand-in but Rooney, who has captained the side once before, is keen to take on a more senior role in Roy Hodgson's group.
Hart said: "I've not thought about it at all. How the captain is chosen is the manager's decision. I've got a big responsibility to keep my place in the team for club and country.
"If I do get the nod, I'll try and give as much as I can in terms of helping the team. But I think it's between Wayne Rooney and Wayne Rooney if we are going to go on experience and how captains have been chosen in the past."
Hart was acclaimed as the world's best keeper following his recent performance in Manchester City's Champions League game against Borussia Dortmund.
He said: "It's nice people say nice things but things are easily said. In goal, you can be the worst in the world two days later if you are on television and something mad happens in the game.
"You've got to try and take the rough with the smooth. It was a special honour for some special people to say some nice things but we move on. You've got to remain level-headed."
And the City No 1 knows even a side as lowly-ranked as San Marino are capable of causing a keeper embarrassment.
"It's just not often that I get much opportunity to make many saves because City are so solid at the back," he said.
"Concentration is always key. International football is not often 'you have a go and then we'll have a go'. It's a chess game. I imagine, like most teams when they come to Wembley, San Marino are going to try and get people behind the ball."