Striker Wayne Rooney in control of temper as he prepares to captain England
Wayne Rooney insists he can now control his temper as he prepares to captain England against San Marino on Friday.
Last Updated: 12/10/12 7:40am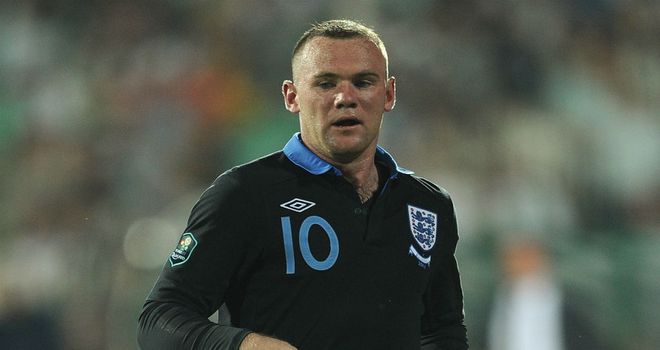 Rooney will lead out his country in Friday's World Cup qualifier against San Marino at Wembley in the absence of the suspended skipper Steven Gerrard.
The Manchester United forward has had his problems with discipline in an England shirt - seeing red at the 2006 World Cup, making an abusive outburst four years later and being sent off for kicking an opponent in Montenegro 12 months ago.
But Rooney is adamant those days are over.
Rooney said: "I don't think I'm going to change my attitude because I'm wearing the armband. I'm quite vocal on the pitch and my determination can hopefully help the team.
"But I don't want to be making the wrong type of headlines and missing games I don't want to be missing.
"What happened in Montenegro was stupid. I regretted it as soon as I'd done it. It won't be happening again, I can promise.
"The thing against Algeria was partly do with looking for a way to justify my own performance. Since then, I've matured more as a player and a person.
"I have cut out a lot of the silly tackles and mistakes I made as a young player."
Inspiration
Rooney admits he will take inspiration from the way his friend Gerrard carried himself in the role.
He added: "Steven Gerrard has certainly been an inspiration in my career.
"I saw his determination as a player, growing up. I saw his passion and desire to play for Liverpool and England, and that's fantastic.
"I've captained United a few times, in Champions League and different things. I think it's a great responsibility for me to take.
"I feel I've matured as a player in my game. I feel I've learned the game better, and have a different style.
"Whatever the manager asks me to do, I can do it. Hopefully I can help the players and myself."
Expectations
Roy Hodgson certainly has no concerns about his captain for the evening.
"The expectations for Wayne, Steven Gerrard and Frank Lampard are a bit higher than those playing their third, fourth or fifth game," said the England boss.
"It's a cross top players have to bear. But I had no hesitation thinking Wayne could handle it and it didn't occur to me to give the captaincy to anyone else. He deserves it.
"It is a fundamental part of the English culture. I go back to Bobby Moore or Billy Wright. Maybe it's not the case in other countries. Here the captain has iconic status."