Wayne Rooney proud to move to fifth in the list of all-time England goalscorers
Wayne Rooney celebrated moving to fifth in England's all-time goalscoring list in the 5-0 win over San Marino.
Last Updated: 12/10/12 11:28pm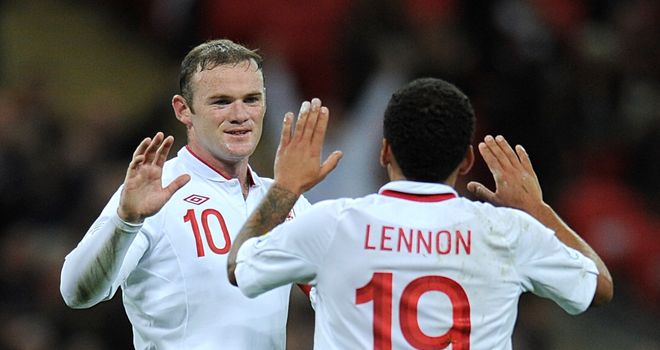 Captaining the side in the absence of the suspended Steven Gerrard, Rooney led by example as he netted his 30th and 31st international goals.
The striker has now surpassed Alan Shearer, Tom Finney and Nat Lofthouse, and he said: "There are some great players there and to be in the England top five is something to be proud of. I am only 26 so hopefully I will score a lot more.
"We created some good chances and maybe there was a bit of poor finishing but it's not that easy when they put 10 or 11 men behind the ball.
"It's difficult to break them down and we had to create chances and we managed to do that, so obviously we'll take the positives and it wasn't a bad result."
Rooney enjoyed the honour of leading his country and hopes to do so again in the future, but he insisted he will be happy to hand the armband back to Gerrard for Tuesday's trip to Poland.
"If you can get the opportunity to captain your country, it's something which I think - as a player - you need to grab with both hands," he said.
"In the future, hopefully that'll happen. But, at the minute, Steven's our captain and he'll lead by example for us.
"To actually lead a team out, you look up, you see the crowd and - the atmosphere - it's quite a feeling. To captain your country at Wembley is the greatest honour you can have."
Rooney's Manchester United team-mate Danny Welbeck also struck twice, and he added: "I want to score a goal in every game and this was my first of the season.
"But I've been playing in different positions and it's all good experience for me, so I'm definitely happy."