Roy Hodgson angered by challenge on Theo Walcott that forced the England striker to spend the night in hospital
England boss Roy Hodgson slammed the challenge that put Theo Walcott in hospital after the 5-0 win over San Marino.
Last Updated: 13/10/12 12:10pm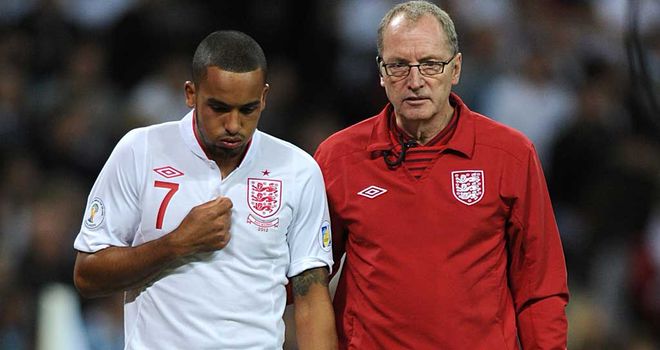 The Arsenal winger was sent crashing to the turf by a rash challenge from goalkeeper Aldo Simoncini just 10 minutes into the one-sided World Cup Group H qualifier.
Walcott wandered gingerly off clutching his rib cage, and Hodgson said: "It was a very bad challenge and he's in hospital and will stay in hospital overnight.
"It is a chest problem. It didn't look too good but until such time as they have scanned it we won't know the extent of the damage.
"He's having scans and tests and we can only hope it isn't too bad, but it was a very poor challenge and we should have been up after three minutes with a penalty."
Hodgson was further enraged that Simoncini avoided punishment for the challenge, and insisted the goalkeeper was fortunate not to have been sent off.
"If I was describing it as reckless I would be being kind," he said. "It was a very fierce challenge.
"I don't think there was any malice but it was a very bad challenge. They were lucky it wasn't a penalty and he was lucky he wasn't sent off."