World Cup: Steven Gerrard insists England have no excuses for Poland draw
England captain Steven Gerrard refused to look for excuses after their below-par display in the draw with Poland.
Last Updated: 18/10/12 9:45am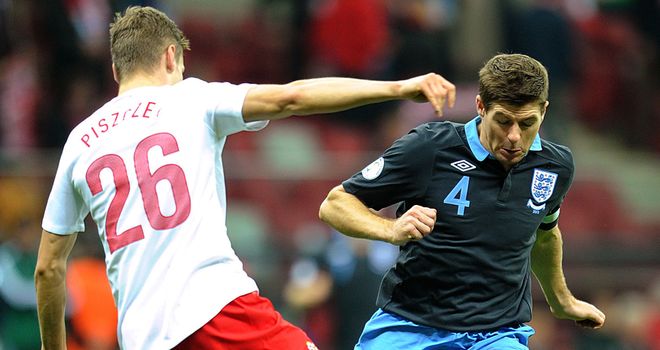 Roy Hodgson's men were held to a 1-1 draw by Poland in Warsaw after Kamil Glik cancelled out Wayne Rooney's first half opener.
England struggled for long periods after the game eventually went ahead a day late due to a waterlogged pitch on Tuesday
Gerrard acknowledged England were "not totally at the races", but he refused to blame the 20-hour delay before the game went ahead for England's poor showing with reports suggesting some players needed sleeping pills to sleep after Tuesday's game was postponed.
"When you're fired up, pumped up, you've had your massages and you're ready to go, that's not ideal (when the game is called off)," said Gerrard.
"But we're professionals. We're playing at the top level and we had to get ourselves up for this but I didn't think we were totally at the races.
"It was difficult conditions and a difficult pitch but we can't use that as an excuse.
"I thought Poland dealt with the conditions and played to the conditions slightly better than us. That's the reason we didn't get three points.
"The pitch was slippy, wet, cutting up. I think it was only laid a week and a half ago so it wasn't ideal. Both teams tried to make the most of it and they did it better than us.
"We did okay until we scored but never built on the one-goal lead. We never passed the ball well enough, for whatever reason."
Rooney also insists England need to improve on their performance in Poland to qualify for the 2014 World Cup.
He said: "Do England have to improve to qualify? Yes, of course. We know we can play a lot better than that.
"But at least we got the point. It was a hard-fought point. It was a difficult game, a difficult pitch. We weren't at our best but we dug in and got a draw.
"We know we can play better but this is a difficult place to come. It is a decent point.
"We knew it was a tough group, but we're confident. We believe in ourselves and we believe we are the best team in the group, so we are confident of qualifying."