Serbian players and staff asked to give formal statements over England U21 clash
All Serbian players and staff involved in Tuesday night's clash with England have been asked to give formal statements.
Last Updated: 25/10/12 7:23am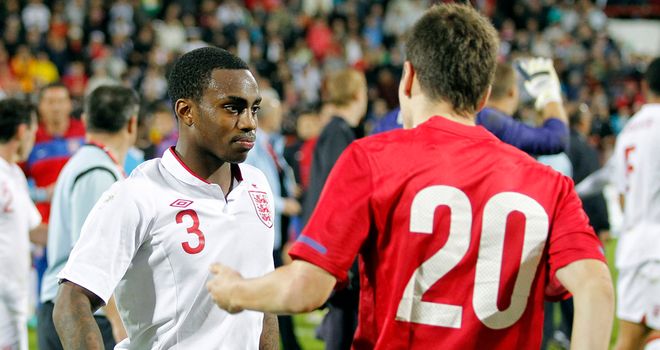 The match, which England won 1-0 thanks to a last-minute goal from Connor Wickham to complete a 2-0 aggregate triumph, was marred by unsavoury scenes at the final whistle with scuffling on the pitch amid accusations of racism from the stands towards England left-back Danny Rose.
The Serbian federation (FSS) has announced its disciplinary committee held an extraordinary session on Thursday morning at which the request was made.
UEFA announced charges against both the FSS and the English Football Association for the improper conduct of their players, and against the Serbs for "alleged racist chanting" by fans.
And the FSS has now revealed an internal investigation is also under way.
A statement on its official website read: "In Belgrade today, there was an extraordinary session of the disciplinary committee of the Football Association of Serbia.
"It was decided to officially request statements from all the players and members of the professional staff of the under-21 Serbia national team who took part in the second leg of the play-off on October 16 in Krusevac.
"The deadline for submission of these statements is three days. The disciplinary committee will decide which individuals will be subject to disciplinary proceedings."
Serbian FA president Tomislav Karadzic has apologised for his players' involvement but claimed they were not solely to blame.
"We witnessed ugly and inappropriate scenes after the match in Krusevac," he said.
"I take this opportunity to once again apologise to all fans of football and the English FA's delegation.
"The incident saw a fight which included individual players and members of the coaching staffs from both teams
"I have sent an apology on behalf of our association as we hosted the match, not that I think it was only our fault."
He added: "There was unacceptable behaviour from certain members of our team. Youth is not an excuse for foul and unsportsmanlike conduct and cannot be an excuse for individuals from the staff who clearly violated the rules.
"I am pleased that the members of the disciplinary committee met today and requested the necessary information."
Karadzic dismissed the notion that racism was a problem in Serbia.
"The Serbian people have never been, nor will be racist," he said. "Our history testifies to this and the crowd's reaction to the defeat should not be confused with one of the greatest evils of the modern era.
"We have great confidence in the authorities and UEFA to implement the correct procedures."