Steven Gerrard confident England will qualify for the World Cup
England captain Steven Gerrard is disappointed not to have more points at this stage, but is confident of qualification
Last Updated: 18/10/12 4:22pm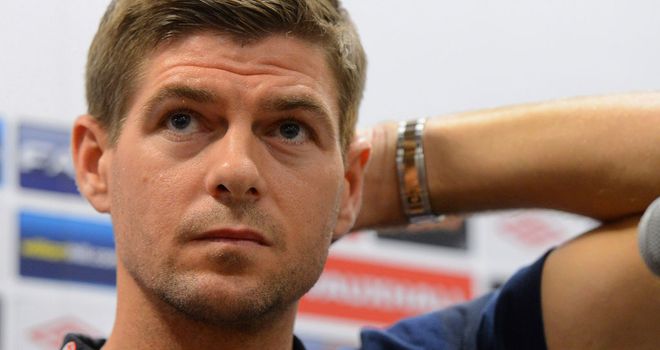 Gerrard, 32, understands that while being at the top of the group is where he wanted to be, he feels the team should have more points.
The experienced midfielder, who collected his 99th cap in the 1-1 draw with Poland, believes that, despite the less than perfect start, England will certainly qualify for the Brazil in 2014.
"Montenegro got a fantastic result in Ukraine (a 1-0 win) which has turned the group in their favour," said Gerrard.
"I'm happy to be at the top of the group although slightly disappointed not to have a few more points on the board. But I don't think Montenegro and Ukraine will come to Poland and take maximum points.
"At the end of the group, hopefully this point in Warsaw will be seen as an important one.
"I'm not worried about Poland when they get to Wembley. On a better surface we will take maximum points. I'm confident we can beat all those sides."
More to come
Manchester City's James Milner is as delighted as his captain to be topping the group, but fully understands the need for improvement after England were second best for much of the 1-1 draw with Poland.
"The positive is we are top of the group. That's where you want to be, at the top and looking down on everybody else," said Milner.
"We know there is more to come from us as a team as well. Poland is a tough place to come and we are still unbeaten.
"You can see from the group that teams are going to take points off each other, which is what has happened so far.
"We need to make sure we win our home games, make sure we stay unbeaten away and hopefully pick up a few wins as well. I'm sure we will do that and keep improving."
Milner then gave a frank assessment of England's performance in Poland, giving credit to the resilience of the team to hold on for a well-earned point.
He added: "I don't think we played nowhere near as well as we can but we dug in and took a point, which is one of the positives.
"It was frustrating not to hold onto the lead. We didn't move the ball nowhere near as well as we can do which was disappointing.
"Conditions were difficult. The pitch was heavy. That was going to be the case after Tuesday night and there was unpredictable bounce. But it was the same for both sides and there are no excuses."
Everton defender Phil Jagielka admitted that the performance was not up to the high standards expected of the national team.
"It was probably not the best performance. We didn't play well for the majority of the game," Jagielka added.
"We had our backs to the wall for most of the second half which is fair play to them. They put us under pressure."