FIFA's Jim Boyce calls for tough action against Serbia over racist chanting
FIFA's Jim Boyce feels tougher action should be taken against Serbia if their fans are found guilty of racist chanting.
Last Updated: 20/10/12 9:51am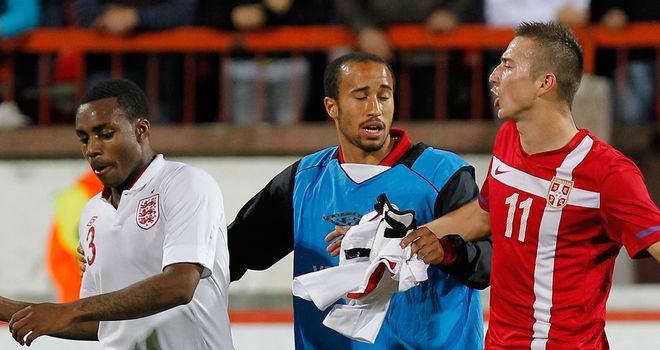 The two sides clashed on the pitch after England's 1-0 win in Krusevac amid accusations that left-back Danny Rose had suffered racial abuse.
UEFA has charged the Football Association and Serbian FA for the improper conduct of their players and the Serbs for 'alleged racist chanting' by their supporters.
They have been fined in similar circumstances before but Boyce feels such sanctions do little to deter fans from abusing players and he feels tougher action must be taken, including omitting Serbia from future tournaments.
"There's got to be very serious action taken, especially against the Serbian FA," he said.
"There may even be a situation where Serbia aren't allowed to play in one of the future competitions.
"This is not the first time that Serbia have had major problems and as someone who completely condemns racism in any shape or form, I think this time UEFA have to act and they have to act very strongly.
"It's come to a stage where to fine people or to give associations large fines, it doesn't seem to work. The morons who cause these problems really don't seem to care about money that has to be paid out by clubs or associations."