UEFA president Michel Platini tells of 'disgust' at Serbia scenes
Michel Platini has written to minister for sport Hugh Robertson to express his dismay at the scenes in Serbia.
Last Updated: 23/10/12 7:55pm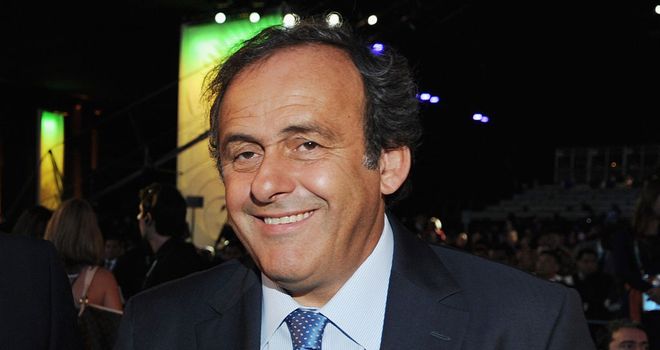 Danny Rose appeared to be subjected to monkey chants during and after the 1-0 play-off win in Krusevac, which was followed by a mass brawl on the pitch between coaches and players from both sides.
UEFA have opened an investigation in to the chanting and European football's governing body have also charged the Football Association of Serbia (FSS) and the English Football Association (FA) for their players' conduct after the match.
The FA vehemently deny the FSS's claim there was no racist chanting at the match and Robertson was so appalled by the ugly scenes that he wrote to UEFA's president to ask him to come down hard on the Serbians.
The FA revealed on Tuesday that Platini has returned Robertson's letter admitting his shock at the events that unfolded in the Balkan state.
"Michel Platini has written back to Hugh Robertson (and said) in unequivocal terms that they were disgraceful scenes," said FA general secretary Alex Horne.
"His immediate reaction was that they were disgraceful scenes that we shouldn't be seeing on a football pitch."
Horne hit back at the Serbians for appearing to release a video on YouTube that it said proved 'there was no unsportsmanlike cheering and insulting of players on racial grounds'.
"It's not what I have seen on the video clips I have seen and it is not what I have heard from eyewitness reports of multiple people who were on the trip," Horne said, speaking at an event to promote the FA's 150th anniversary next year at Wembley.
"I believe the guys and girls who were out there on the trip and that were hit by missiles. I wasn't there. I was watching on television. It was appalling. What the players went through out there is abhorrent."
UEFA are under pressure to come down hard on Serbia after their perceived weak punishments of other associations and clubs.
It is also not the first time Serbian supporters have been accused of racism.
They were fined £16,000 at the Under-21 European Championships in Holland after their supporters racially abused England's Nedum Onuoha.
Horne, who warned last week that England may think twice about playing in the country again, has vowed to help UEFA in any way they can with the investigation.
"We have put our case forward," Horne added.
"It was very uncomfortable for the people out there so we have written in strong terms to UEFA.
"We spoke to the match commissioner. He is supporting our view of events so it has all gone through UEFA channels.
"We are looking at a hearing on the 22nd or 23rd of November.
"We will support that commission with any evidence or support they need. We have to look at it seriously."