The Serbian FA has suspended two players for part in England Under-21 brawl
The Serbian FA has suspended Nikola Ninkovic and Ognjen Mudrinski for their part in the brawl against England U21s.
Last Updated: 25/10/12 8:59pm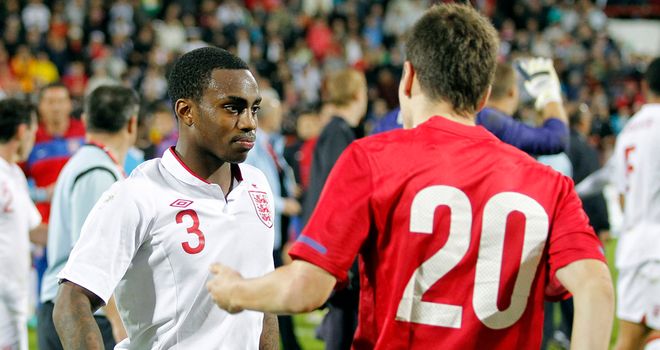 The suspensions come after violent scenes broke out following the Young Lions' 2-1 European Championship qualifying win in Krusevac on October 16th.
After a meeting of their disciplinary committee, the Serbian FA published a statement on their official website on Thursday confirming they had suspended Ninkovic and Mudrinski from all national teams for a year.
The FSS also revealed two staff members, Srdjan Maksimovic and Andreja Milutinovic, had been suspended for two years.
The statement read: "Having reviewed the television footage of the incidents, the FSS disciplinary committee decided to ban Ninkovic and Mudrinski from playing for Serbia at any level for a period of one year.
"Also, staff members Srdjan Maksimovic and Andreja Milutinovic have been banned from their coaching duties at any level for Serbia for two years. All four have violated the FSS ethics and fair-play code."
Both country's football associations have been charged by UEFA over the behaviour of their players, while the Serbian FA have also been charged with alleged racist chanting by fans.
The FSS initially denied any form of racism towards the England players, but subsequently called an investigation in which all of the players and staff involved were asked to give statements.
Condemned
After the sanctions were handed down former Serbia international Savo Milosevic, who is now the country's director of national teams, condemned the behaviour of the players and officials involved.
"First of all, I do not dare to comment on the sentence," he said. "Regardless of that I would suggest that in the future this or similar behaviour will not be tolerated.
"As such it is not and will never be acceptable to all those in the Serbian FA."