Carl Jenkinson will link up with England squad once he is cleared by FIFA
Carl Jenkinson will be added to the England squad for the friendly with Sweden as long as he receives FIFA clearance.
Last Updated: 08/11/12 4:05pm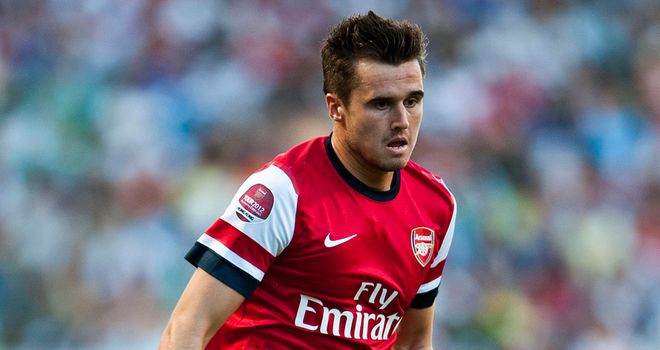 England boss Roy Hodgson says Jenkinson has committed himself to England but he requires clearance because he has represented Finland at Under-21 level.
Jenkinson has a Finnish mother but an English father, and he trained with Hodgson's squad last month prior to their game in Poland.
He was not in the squad for Stockholm which was named on Thursday but Hodgson explained: "The reason I didn't include Carl from the start is because we haven't, at this moment in time, got clearance from FIFA, but we do believe that they are going to grant that clearance within a day or two.
"So, by next Wednesday, he will be clear to play. He wants to play for England and has made that clear, so we applied for permission to FIFA, as one is allowed to do, immediately after he left us and before we set off for Poland.
"That was a month ago but I didn't want to put his name down in a squad until such time as I had FIFA clearance saying he's available to play for us in my hand.
"If the clearance comes through, we will put him in the squad. He was with us for training just before we left for Poland and I made it clear to him then that, if he did want to play for England, I would include him in this squad, and I intend to keep that promise."