Roy Hodgson is keen to get a look at Leon Osman and Raheem Sterling in Stockholm
England manager Roy Hodgson says Leon Osman and Raheem Sterling are fully deserving of their places in the squad.
Last Updated: 08/11/12 5:34pm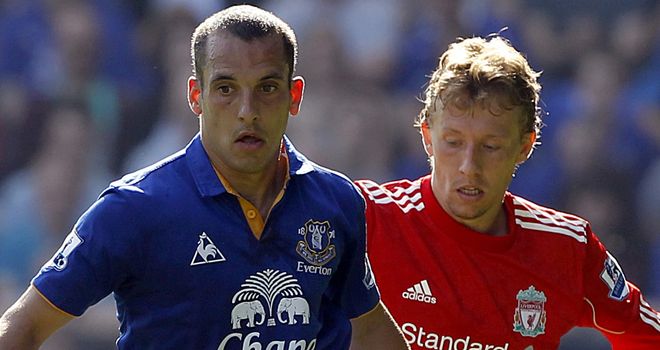 Everton midfielder Osman has been selected for the first time at the age of 31 while young Liverpool forward Sterling is in the squad again, having been called up as a replacement earlier this season.
Hodgson said: "Leon is a player who I've admired since I came back to Fulham five years ago. He's always done extremely well whenever I've played Everton or watched Everton.
"Of course, he's faced great competition in the position that he plays but, on this occasion, we've got the opportunity and the space to bring Leon into the team."
It has been rumoured that Jamaica may try and claim Sterling but Hodgson says that was not a factor in his selection.
"He's in the squad on merit and because I think he's done extremely well for Liverpool," said the manager. "He burst onto the scene at the start of the season and has been ever-present in the Liverpool team in recent games, playing a very exciting part.
"It has nothing to do with him being courted by anybody else. My views on that subject are clear, as far as I'm concerned a player should have the right to choose who he wants to play for.
"But, it would seem to me, having played at every level for England so far, it must be Raheem's hope that he's going to represent his country at national team level and he's on the threshold of doing that at the moment.
"And he's doing it because he's there on merit, as one of the better players that we have in England at this time."
Nicely balanced squad
Hodgson will also be able to welcome some more familiar faces back into the squad and he added: "It's an interesting and nicely balanced squad I think.
"There are some young players and one or two new players that we would like to look at, such as Leon and Raheem.
"It's good to have Ashley Young back after he has been missing for a long time and Jack Wilshere is back, who has been missing even longer.
"There are a good group of senior players in there, not least Steven Gerrard, who is going to play his 100th game and captain the team."