Zlatan Ibrahimovic is clearly a big fan of England captain Steven Gerrard
Sweden star Zlatan Ibrahimovic has paid tribute to England captain Steven Gerrard ahead of winning his 100th cap.
Last Updated: 13/11/12 4:17pm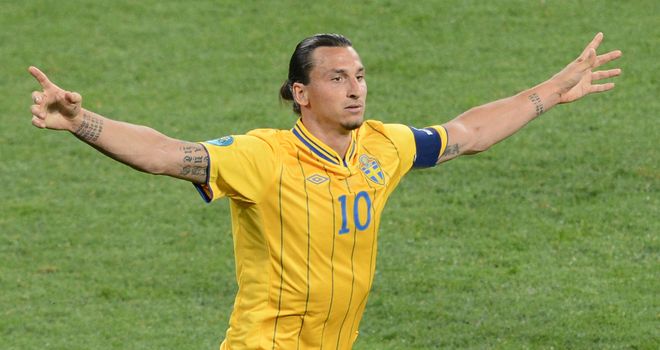 Gerrard is expected to lead England out in their friendly clash in Stockholm on Wednesday after coming through an injury scare when a scan showed he had avoided damage to his knee ligaments on Sunday against Chelsea.
Ibrahimovic feels Gerrard is not a typical English player and his comments were echoed by Sweden coach Erik Hamren.
Ibrahimovic said: "I think Steven Gerrard is a fantastic player. He has been loyal to his club, he has won some big trophies with the club.
"He always plays at a high level when he is not injured. He is a very good person to have as a team-mate in your team. He always gives 200%, is a good fighter and has good skills and a good touch with the ball also.
"He feels more like an international player rather than a normal English player. English players have big hearts always fighting, very aggressive but for me Gerrard for me feels more international. He has more skills than the normal player."
Hamren said: "I really like him as a player. He has something extra. I'm sorry he has had some injuries which have maybe stopped his top level.
"But when he is not injured, he is a top player because of his skills to read the game and his skills to make the passes, especially the long ones. He has shown how good he is for England and his club."