'World class' Ibrahimovic earns warm tribute after upstaging Steven Gerrard
Steven Gerrard paid tribute to "world class" Zlatan Ibrahimovic after the Sweden striker destroyed England in Stockholm.
Last Updated: 15/11/12 8:18am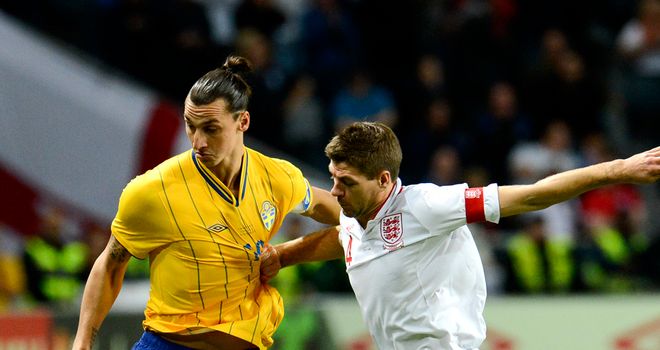 Gerrard was well and truly upstaged on his 100th international appearance, Ibrahimovic netting all four home goals in a 4-2 win which was Roy Hodgson's first in 90 minutes as England boss.
The Swede's final goal was a stunning 25-yard scissors-kick, fired into an empty net from Joe Hart's poor clearance and called "a master work" by Hodgson. Gerrard said: "He just scored one of the best goals I've seen live.
"I still stick by Zinedine Zidane, he was the best player in the world and the best player of his generation, but Ibrahimovic's performance was world class.
"I congratulated him after that. He said some nice things about me before the game which was really nice. If I could return the compliment I would say that was one of the best individual performances I have seen. He is not everyone's cup of tea but he is certainly mine."
Gerrard saw plenty of positives on a night when six players made their debuts, and England were in charge at 2-1 before Hodgson made a spate of planned second-half substitutions.
The captain said: "When you make more than three substitutions it does spoil the game. The manager is under pressure from other managers and he is respecting those mangers.
"We were comfortable until we made changes. There were a lot of positives from our point of view, a lot of young players playing their first games and we can take a lot from this.
"All eyes were on me and there was extra pressure and excitement. Now I am glad it is out of the way and I focus on getting us to the next World Cup. That is the big challenge."