England boss Roy Hodgson backs Joe Hart despite shaky Sweden performance
England boss Roy Hodgson has leapt to the defence of Joe Hart after his poor performance in the defeat to Sweden.
Last Updated: 15/11/12 12:05pm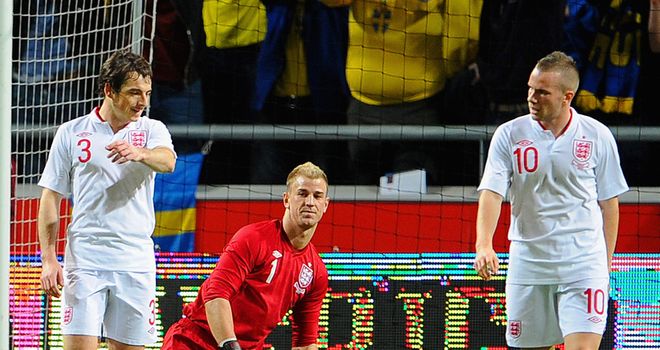 Mistakes have crept into the Manchester City goalkeeper's game of late and that spilled onto the international scene in Stockholm.
Hart made two minor errors at the Friends Arena, in addition to two major ones, the last of which allowed Zlatan Ibrahimovic to score his stunning fourth goal in Sweden's 4-2 friendly win.
"We are not bothered about Joe Hart," stated Hodgson. "He is a very good goalkeeper.
"We think we will have a lot of success with him in the goal even if tonight it wasn't maybe one of his best days, this happens in football."
Despite suffering his first loss in open play as England manager, Hodgson remained upbeat and was impressed by 17-year-old debutant Raheem Sterling.
"Raheem has to be very happy," said Hodgson.
"He had a difficult start. The first challenge on him was a very fierce one. It put him on the ground and winded him.
"But he came through that and got better and better. Towards the end he tired a little as one would expect but I have to be satisfied with what he did.
"He is not even 18, so it bodes well.
"He is a young man with a future. He is a young man with talent. Now he has to hone that talent in the Premier League with Liverpool."
Hodgson took plenty of encouragement from a friendly game his side were winning 2-1 before a series of second-half changes and told Sky Sports News: "I've got to say it was a very good performance for long periods.
"It's disappointing to lose, especially after 2012 when we haven't really lost that many, but if we're going to lose a game it's probably better to do that with the team we had.
"So many players were getting experience, feeling their way into the national team. Me and my coaching staff learned an awful lot today about a lot of players, and a lot of the things we learned were very positive.
"I thought the centre-backs - Steven Caulker and Gary Cahill - did very will for us. Glen Johnson and Leighton Baines were their usual very very good selves, and I thought Leon Osman actually was surprisingly good.
"Danny Welbeck was excellent at centre-forward and it was good to see Jack Wilshere back in an England shirt looking very assured for 25-30 minutes.
"Probably the biggest plus was to see Steven Gerrard playing so well, dominating the game on what was his 100th appearance for the country.
"With players at home coming back into reckoning we're looking forward to a bright 2013. This was the Sweden team that drew 4-4 with Germany recently and I thought for long periods we didn't just match them, we had the better of the game."