Roy Hodgson has backed Wayne Rooney to perform at his best for England
England boss Roy Hodgson is confident Wayne Rooney can perform at his top level for his country.
Last Updated: 16/11/12 7:35am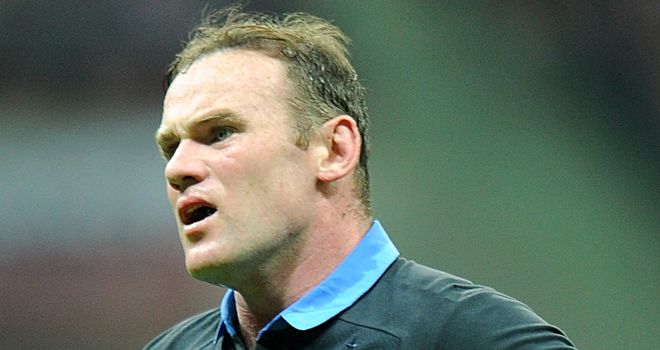 The Swede's wonder-goal in his side's 4-2 friendly win over England in Stockholm immediately sent minds racing about other great goals in the modern era.
Diego Maradona's slalom effort for Argentina against England in the 1986 World Cup quarter-final was an obvious one, Marco van Basten's brutal volley in the Euro 88 final or even Paolo di Canio's for West Ham against Wimbledon in 2000.
But more recently, Rooney's spectacular overhead kick against Manchester City at Old Trafford takes some beating.
There was a similarity to Wednesday night in the height Rooney rose off the ground before launching himself at Nani's deflected cross in 2011.
Yet it also served as a reminder 2012 has been another year of relative disappointment for Rooney on the international stage.
Suspended for the first two European Championship games, the forward looking sluggish when he did return and whilst he did score a penalty in that fateful shoot-out defeat to Italy, he was on the periphery for much of the proceeding 120 minutes.
Hodgson retains faith in his star man though, saying: "Rooney is a top-class player. We have to hope he can produce top performances.
"I believe in Wayne Rooney very strongly, as of course do Manchester United."
Talents
The problem is how to maximise his talents.
At various times for United, he has been used as a lone forward, just behind a main striker and wide on the left.
Just recently, he has been operating in a deep role just in front of the Red Devils' midfield.
The difference is that Sir Alex Ferguson has other alternatives to choose from.
Robin van Persie could hardly be described as a sub-standard option and Javier Hernandez's recent goalscoring run already has him pencilled in for a start at Norwich on Saturday.
As Hodgson is painfully aware, he simply does not have the same strength in depth.
"You don't have to do anything specific to get the best out of Wayne," said Hodgson.
"We know the ability he has and his commitment to the cause.
"Alex Ferguson has done it very well down the years but, of course, there's a lot of pressure and if he doesn't have a good game a lot of questions are asked of him.
"That's the responsibility he bears."