England boss Roy Hodgson plays down expectation around Jack Wilshere
Roy Hodgson wants the expectation levels surrounding Jack Wilshere to be kept in check as England face Brazil.
Last Updated: 05/02/13 9:58pm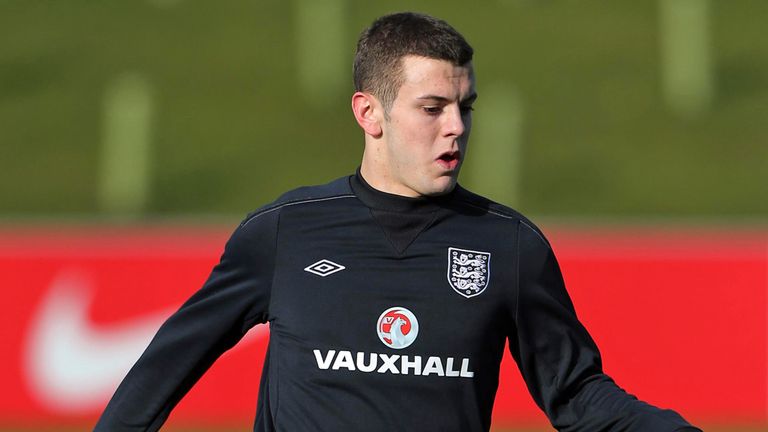 Wilshere is poised to start for his country for the first time since the Euro 2012 qualifier with Switzerland in June 2011.
The Arsenal midfielder has been in impressive form since returning from his lengthy injury lay-off and he appeared as a substitute for England against Sweden in November.
But Hodgson hopes that not too much weight is placed on his young shoulders in terms of being billed as the player who will lead England to glory.
Hodgson said: "Jack is a player who carries a huge weight of responsibility at a young age.
"I hope everyone is going to understand he is still a young man, he is 21 and still capable of playing in the under-21s, not that he will.
"I'm anxious in some ways and, while delighted with his form and the way he plays and sharing everyone's enthusiasm about his quality, I want to play it down a bit too.
"I wouldn't like to see him have to take a backward step because all of a sudden his name is being put forward as the saviour of the English football team. We've got other players too.
"I'm hoping Jack's contribution, which will be a big contribution, will be matched by big contributions by the other players like Rooney, Gerrard, Lampard, Cole, Johnson etc."
Admiration
Ashley Cole will win his 100th cap when he starts against Brazil, and while the Chelsea left-back has not always been popular with England fans, Hodgson believes he deserves a favourable reception.
He said: "I deal with Ashley the footballer, the man I know on the football field, who I know as an England player, who is trying to help me win matches.
"I see no reason for England fans not giving him the credit and reception and the admiration he deserves playing his 100th game.
"If you are an England fan and don't respect or love someone for doing that, then that's your problem and not his."
Hodgson is paying full respect to Wednesday clash with the five times world champions but knows qualification for the World Cup in Brazil in 2014 is the main objective.
Showpiece
He said: "It's a showpiece fixture, the perfect way to start 2013. I couldn't have wished for a better fixture to prepare us for the qualifiers coming up.
"But we are fully aware whenever you are in a qualifying campaign, they are the matches that count however prestigious and difficult to negotiate the friendly fixtures are.
"I was anxious to pick a squad this time that included all of the senior players, all the ones we may be reliant upon.
"This game in particular, we hope it will show us we are on the right track and when March comes around we will be able to get good results in the qualifiers with San Marino and Montenegro."