Ashley Cole reveals pride ahead of 100th England cap in Brazil friendly
Ashley Cole becomes England's seventh centurion at Wembley on Wednesday still scarcely able to believe his journey.
Last Updated: 06/02/13 6:16pm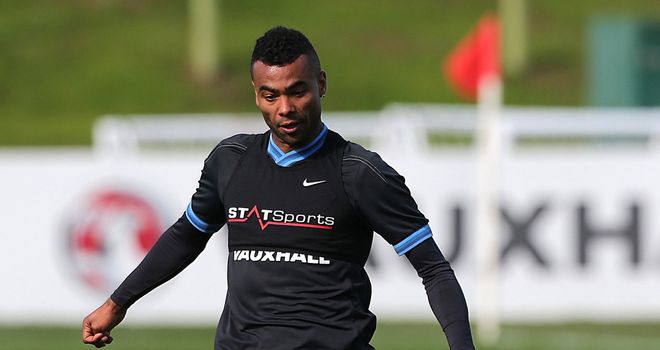 Coach Roy Hodgson has already confirmed Cole will follow Peter Shilton, David Beckham, Bobby Moore, Sir Bobby Charlton, Billy Wright and Steven Gerrard into the history books when England face Brazil.
Speaking at a special event for England sponsors Vauxhall to commemorate his 100th international appearance, Cole made it clear how thrilled he is at reaching such a significant milestone.
"I never thought a little boy from the East End would get a chance to represent my country," he said. "I am proud, privileged and overwhelmed by how many times I have done it. When I retire I will look back and think I achieved something."
And Cole owes so much to his boyhood hero David Rocastle, who sadly died from cancer in 2001, for fuelling the ambition of an Arsenal-loving schoolboy in a five-minute chat the full-back remembers to this day.
"I supported Arsenal at the time and he was someone I wanted to be like," said Cole. "After he spoke to me for those five minutes, it was all I wanted to be.
"Now I look back and think what a great career I have had but I will never forget speaking to him."
Cole will also never forget being told he had been selected by England for the first time, having made just 24 first-team appearances for the Gunners.
He was 20. And he was pedalling away on an exercise bike at Arsenal's London Colney training complex when Arsene Wenger walked in.
"He came towards me and said congratulations on my call-up. I was like 'what are you talking about?'," he said. "I had played four games for the Under-21s, and I didn't expect that because I was playing reserve football and had only been on the bench a few times for the Arsenal first team.
"My reaction to being told I had been called-up to the senior team was one of disbelief. The first thing I did was to text my mum.
"To be put in that situation was a little bit nerve-wracking even though it was a great feeling to know that I would be rubbing shoulders with Andy Cole, Teddy Sheringham, Steve McManaman and (Nick) Barmby.
"I had only seen Becks in the paper and on TV but I knew it was a chance for me to show people what I was about and what I was made of."
Talent
What Cole was about was fulfilling a talent that has had him acknowledged as one of the truly world class England players in an era when too many have been championed as such without living up to their billing.
Of his 99 international appearances, every one has been as a starter.
He has featured in five major tournaments - one short of Sol Campbell's record - and should he play in next year's World Cup finals Cole would become the first England player to appear on the greatest stage on four occasions.
But while his achievement compares with those of Beckham and Gerrard, he has faced booing from fans, specifically during a victory over Kazhakstan at Wembley in 2008. Two years later he was being crowned Three Lions player of the year.
The public perception evidently bothered him earlier in his career. Now he just accepts it. "I don't want to sit here and keep going on about wanting to be loved," he said.
"In football you can't always have it your own way. You can't always have the good times. You are going to have bad spells and periods when you are not playing well.
"Fans booing me is normal now. It is something I have to deal with. I have learned to deal with it. I have gone past the stage where it fazes me. It is something that comes with the job now."