West Brom goalkeeper Ben Foster ends international exile with England
West Brom manager Steve Clarke has confirmed that goalkeeper Ben Foster is available again for England selection.
Last Updated: 28/02/13 6:29pm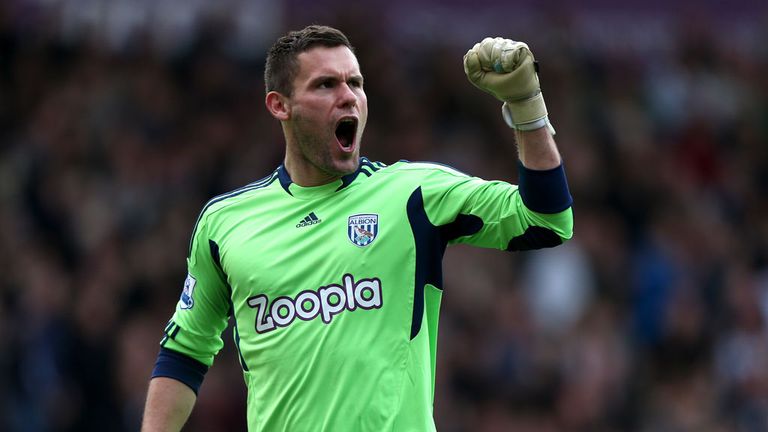 The 29-year-old Foster has five England caps but has not featured for his country since a 2-1 loss to France in November 2010.
In May of the following year he announced that he would not be available for international duty for an indefinite period because he wanted more time with his family and felt his body needed greater periods of rest, following a run of niggling injuries.
However, having signed a new five-year deal with West Brom in the summer, Foster has been in fine form this season and may now return to the England fold for the World Cup qualifiers against San Marino and Montenegro next month.
Regarding Foster's decision to end his international exile, Clarke said: "Ben spoke to me about it last week and his reasons are good.
"He's had his time out that he wanted to spend with his young family, which you can understand and respect. He also had some injury problems and felt he needed time during the season to recover and get from game to game.
"His family is a bit older now and I think he's getting a few days off in the international break and finding his kids are at school, so he has a little bit more spare time on his hands, and he's obviously got ambition as well.
"He explained to me that he wanted to play for his country again and he would like to play in a major tournament, which is something I regret in my career, having not played for Scotland in a major tournament.
"He's at the peak of his form and he's proved he's international class in the past and, if selected, I'm sure he'll prove it again. The injury problems he had a couple of years ago are gone, by and large, and he's in great shape.
"And what better place to go and play in a major international tournament than Brazil. (which will host the 2014 World Cup)?"