England boss Roy Hodgson could rest Jack Wilshere for Brazil friendly in June
England manager Roy Hodgson has admitted he could leave Jack Wilshere out of the summer friendly against Brazil.
Last Updated: 17/03/13 12:25pm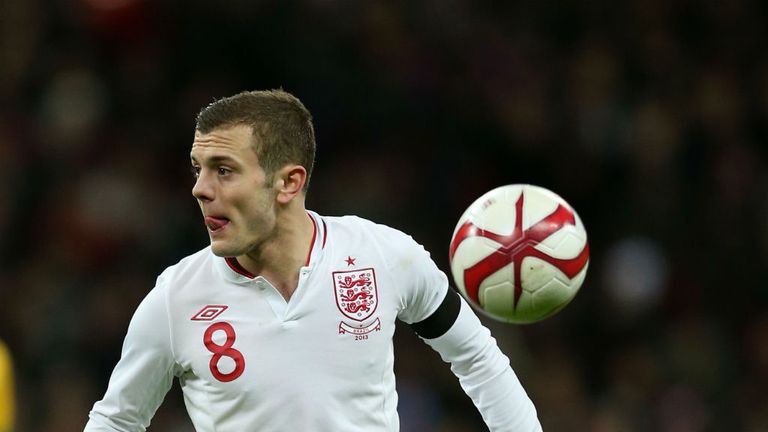 Wilshere is currently sidelined with an ankle problem which caused him to miss the Gunners' UEFA Champions League clash with Bayern Munich in midweek and has not been included for the World Cup qualifiers against San Marino and Montenegro later this month.
Hodgson is aware of the need to manage the fitness of his players and said he would give due consideration to whether it was right to include Wilshere for the June match in South America.
Wilshere spent over a year on the sidelines with an unrelated ankle problem before returning to action earlier this season and impressed in a home friendly against Brazil last month.
Hodgson said: "You are asking me questions about the summer. At the moment, that (friendly) is a much lower priority than these two (qualifying) games.
"Who knows what the situation will be in the summer with players, but when it comes to the friendlies, I'm much more prepared to take in the wishes of clubs and to even give chances to other players.
"I think it is important when it comes to the qualifiers, the Manchester Uniteds, Liverpools, Chelseas, Arsenals, Tottenhams, I need them to be supporting England by releasing their players.
"If, for example, it was suggested Wilshere would be ill-advised to travel to Brazil, I would take that on board when the situation arises.
"But I've got no reason to believe that at the moment."
Hodgson is not concerned about the injury record of the midfielder.
He said: "It was a great blow to Arsenal and England when Wilshere missed 14 months with a fracture.
"But since then, the last two or three months, he has been playing regularly, played a lot of games.
"Unfortunately, he has taken a knock and the X-rays show he needs to rest and not take any further knocks on the ankle. That's how we've understood it.
"But I don't think it's fair to say he is always injured. Since he's been back from the long injury, he has hardly missed a game."