Frank Lampard will speak to Roy Hodgson if he leaves Premier League
Chelsea midfielder Frank Lampard will speak to England boss Roy Hodgson if his next move takes him outside Europe.
Last Updated: 19/03/13 11:21pm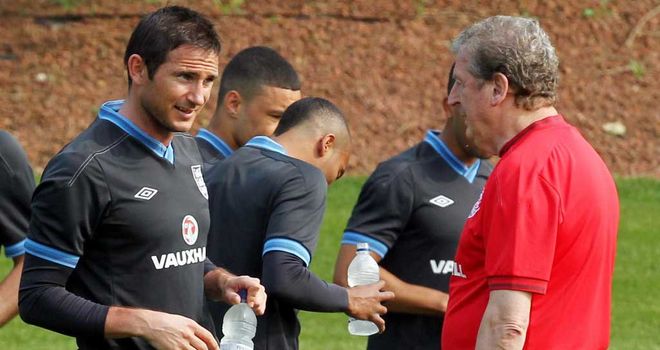 Despite his sensational form for Chelsea, which includes netting his 200th goal for the Stamford Bridge outfit against West Ham on Sunday, there has still been no offer of a contract extension, leaving Lampard's future in doubt.
Major League Soccer has been mentioned as one possible destination for the 34-year-old, while lucrative contracts are also available in the oil-rich Gulf States, in addition to the Far East.
The midfielder insists it is not an issue he has given much thought to at present, but when he does, Lampard intends to consult Hodgson.
"Yes (England will be a big part of his decision). Whilst I am available for England I want to do my best to try and put myself in the squad," he said.
"If I am playing and in good enough form, I'd like to be included if we qualify for Brazil.
"That doesn't rule anything out. I've seen players get picked before playing all over the world.
"If there's ever a time, whenever it is, where there is an option of going outside Europe, I am sure Roy and I would have the conversation, whether it's before or during."
Gentleman
Lampard certainly does not view that conversation as being a difficult one, if and when it happens as he has found communication under the 65-year-old to be a smooth process.
"Roy has been a breath of fresh air," he said. "I know players will always wax lyrical about their current managers, that's just the nature of the beast. You can't expect them to say negatives.
"But I'm being honest talking about Roy. He's a gentleman, first and foremost.
"From the minute I first sat down with him at Chelsea when he came to meet a few of us there before the Euros, I found him a very personable bloke, very dedicated on the training ground, very driven, very pushed, very easy and friendly to talk to - in a good way.
"I have complete respect for him. With me, his communication has been fantastic."
And one of the things Hodgson has made clear to Lampard in their various chats is that age will not be the determining factor in team selection.
"It was nice to hear," said Lampard. "That's how I'd see it as a manager. If players are performing for you, their age shouldn't really matter.
"As long as they're good influences in the dressing room and help the players around them, older players can bring their experience to the table.
"Look at Alex Ferguson, probably the best manager of all time, playing Ryan Giggs at 40 years of age against Real Madrid when we all thought he might not.
"If you've got experience and you're good enough, managers will give you that opportunity."
And that is handy for Lampard given he wants those additional six appearances that would allow him to join England's exclusive '100 club'.
"One hundred caps and is a fantastic achievement," he said. "I watched Steven and Ashley do it and grew up on tales of Bobby Moore from my dad.
"So, if I could get into the bracket of 100 caps, I'd be very proud."