England: Joe Hart welcomes competition after Ben Foster returns to fold
England goalkeeper Joe Hart has welcomed the increased competition for places following the return of Ben Foster.
Last Updated: 20/03/13 3:52pm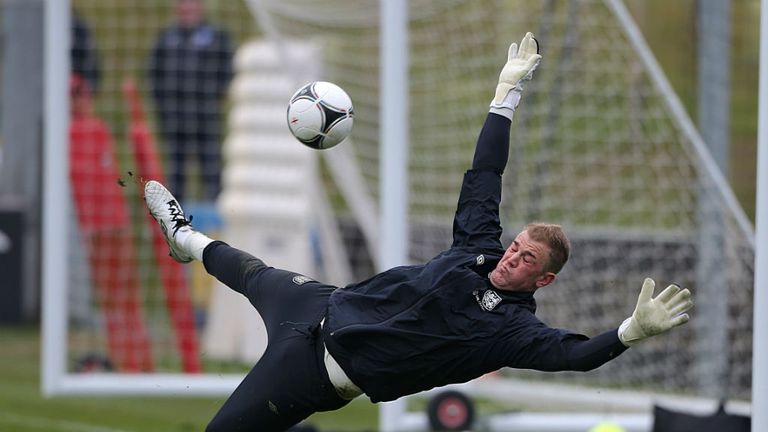 West Brom keeper Foster was named in the the squad for forthcoming World Cup qualifiers against San Marino and Montenegro after a two-and-a-half-year absence from international football.
But while Hart insists rivalries can only benefit Roy Hodgson's group, he remains determined to keep hold of the No.1 jersey.
"It's great to see Ben," Hart told reporters ahead of Friday's trip to San Marino. "He is a consistent performer, someone I get on well with.
"It's good to have keepers like that around. There are three top quality keepers here plus Jack Butland and John Ruddy, and everywhere you look there is good talent.
"Is Foster good enough to push me? Yes, but I've felt that every time I've come away with England.
"My job when I was first involved was to really push hard. We all train like we are going to play and push each other and it's really good. If any one of the three played, then we'd be in a strong position.
"I'm in that privileged spot at the moment. I'm doing what I've always wanted to do, I love it, I'll keep working and training hard if there are no keepers or 1,000 keepers.
"That number one spot is one I want to keep and last summer (Euro 2012) was a real high point in my career, a dream."
Hart concedes he, like City, has struggled to maintain last season's standards, but insists personal criticism has not dented his confidence.
"My season has not been brilliant," he added. "It's had its good times but it's football. It's what I love doing.
"Sometimes you take knocks, you take opinions, but you've got to be strong."