World Cup: England captain Steven Gerrard eyes one last shot at international glory
Steven Gerrard is determined to fire England to Brazil in 2014 and get a chance to eradicate some personal demons.
Last Updated: 21/03/13 8:54am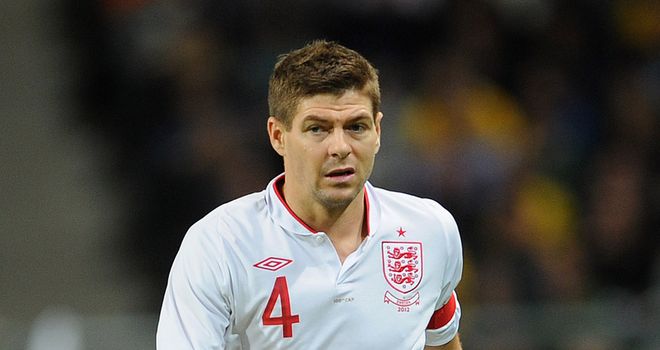 The Liverpool midfielder is desperate to make up for past failures at big tournaments and have one last shot at becoming a "hero in an England shirt".
The 32-year-old admits he has underperformed for his country in European Championships and World Cups and is keen to prove himself among the world's finest footballers.
And it is that fear of further failure which Gerrard says drives him on the pitch as he prepares for England's World Cup qualifying matches against San Marino and Montenegro.
"It's a must for me to qualify from a personal, selfish point of view. An absolute must," the England skipper told the Daily Mirror.
"On one level, it's about the chance to compete against the best sides and individuals on the planet.
"On another, it's about having that small chance of coming back as heroes in an England shirt, which I have never experienced.
"I have dreamt about it of course. I am sure everyone has. I have got close to it. Penalty shoot-outs in the last eight are close but not close enough.
"I don't feel I have done myself justice at a World Cup. I don't think any England player of this generation can think they have.
"If you spoke to the squad that came back after 1990, they could be satisfied with how close they came and that they did everything they could and had no regrets.
"But I have always come out of the tournaments with England with regrets that we haven't gone to that extra stage, the last four or the last two.
"I take some of the responsibility for that. I have always been honest and said I am part of that squad of 23 players that comes back having underachieved.
"You can't hide behind anyone, you have got to take it on the chin and get on with it."
Gerrard at least believes he is physically prepared to meet the challenge at the next World Cup, having apparently overcome the injury problems that have dogged his career.
"Two or three years ago, the way my body was feeling, I never thought I would make this World Cup," Gerrard said.
"Since I have got my groins sorted out, my form for England in the last 12 months has improved.
"I'm not the type of player that can play with injuries or problems and blank them out. I like to go on to the pitch feeling strong and healthy.
"I'm excited and I feel strong and I feel I can make a contribution if we make it to Brazil and that's the reason I feel like it's a must."