Jermain Defoe hails England team-mate Frank Lampard a "special player"
Jermain Defoe labelled England team-mate Frank Lampard a "special player" following their thrashing of San Marino.
Last Updated: 23/03/13 6:17pm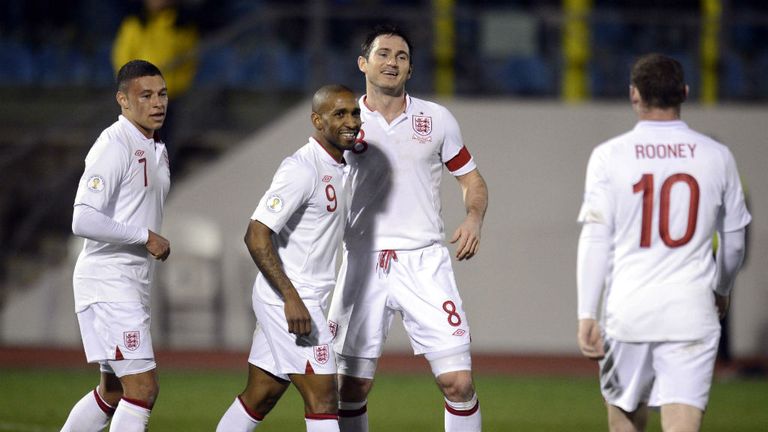 Lampard scored his 28th goal for his country in their 8-0 demolition, and Defoe, who played with the 34-year-old at West Ham, claims he is irreplaceable at Chelsea.
The Tottenham striker, who scored twice at the Serravalle, said: "He finishes like a forward. There are not many like him, he loves scoring goals and, when he gets the chances, he doesn't miss.
"I don't know his situation at Chelsea but in my opinion he is someone you can't replace because of the amount of goals he has scored over the years.
"He is a special player. He can easily go on for another two or three years.
"At the end of the day you know you are going to get goals. You know what you are going to get from Frank and goals win games.
"I'm sure Chelsea won't get rid of him. He is a special player."
Lampard has his eye on a tougher challenge when England face against current group leaders Montenegro on Tuesday.
He said: "Some of their players are playing at the top level in European football right now and we have been there before so we know the dangers.
"You look at the state of the group and it's a really critical game and we have to be ready for it."
Defoe believes England are capable of repeating the level of performance shown against San Marino.
He said: "We passed the ball well and created a lot of chances. They gave us an own goal early on and then we created and took the chances.
"We were delighted with the performance. At some stage you are going to get the goals. It is important to try and get a good performance and we managed to do that.
"Even if you take away the goals, the way we moved the ball was good, the movement was good, and everyone is happy.
"It is good for confidence because sometimes you might play a game like this and it might be a horrible game where you don't play well but still win.
"It is important to have had a good result and a good performance and all the things we worked on in training, we did well and the manager is happy."