England coach Roy Hodgson won't be calling on John Terry
Roy Hodgson insists that he will not be asking John Terry to come out of retirement for England.
By Graeme Bailey - Tweet me: @graemebailey
Last Updated: 24/03/13 11:13am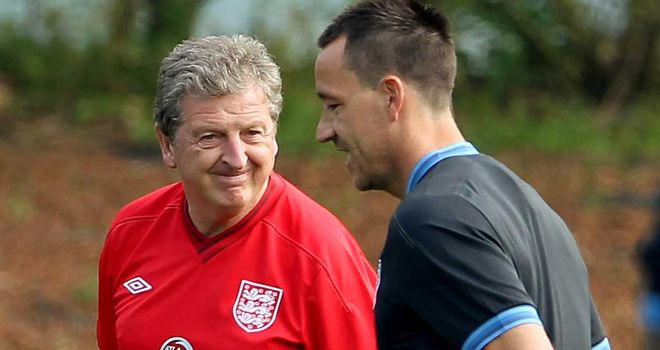 With Rio Ferdinand's decision to turn down a call-up for the double header with San Marino and Montenegro, Hodgson has been left with few options in central defence.
Chelsea captain Terry retired from international duty last year after he was found guilty of racially insulting Anton Ferdinand - after being cleared in court.
It has been suggested to Hodgson, on the back of Ferdinand's decision not to join up, that Terry could contacted.
But the England boss insists that he respects a decision by any player.
Asked if he considered recalling Terry, Hodgson emphatically said: "No.
"The fact is John Terry has retired from international football, a decision I have respected.
"I think it's wrong for people to ask for people to consistently come back. I'm working with a group of players here and we've had quite a lot of games here since John retired.
"Where do we stop? Should Michael Owen come out of retirement every time we can't score a goal? Let's stick really to the guys playing regularly every week.
"I've got great respect for John Terry and he did a fantastic job during Euro 2012. But circumstances contrived against me in that respect and he felt the need to retire, so let's respect that.
"And let's also show some respect for the young Chris Smalling and the not-so-young but well-tried-and-tested Joleon Lescott. Because Joleon Lescott's at Manchester City, he's a champion of England; Chris Smalling is playing for Manchester United.
"I'm not exactly putting a couple of players from non-league football out there on Tuesday night against Montenegro. And I think we should show them a bit more respect and not constantly compare them.
"Maybe while we're talking about John we could maybe talk about Roy McFarland and Colin Todd. How far back do you want us to go?"
Disrespectful
Hodgson insists that England are not that weak in central defence and he is far from happy with that suggestion.
"I'm sure when people make that point they're aware they're being disrespectful to the people who are there," he said.
"And anyway, football is a team game. You don't win a game because you've got a particular centre-half, midfielder or a forward, you win it because you're a good team with good players who work for each other."