Liam Ridgewell feels choosing between England's Joe Hart and Ben Foster is tough
Liam Ridgewell says he does not envy England boss Roy Hodgson having to pick between Joe Hart and Ben Foster.
Last Updated: 25/03/13 10:19am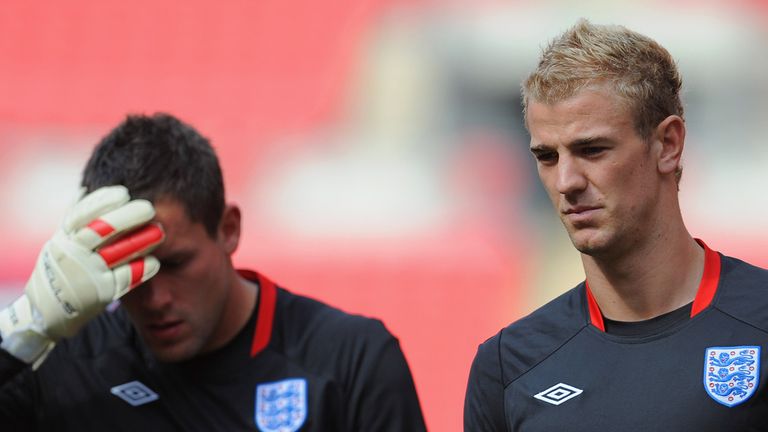 Foster is back in the squad to challenge Hart for the No.1 jersey after ending his self-imposed international exile.
Manchester City keeper Hart took the gloves for Friday's 8-0 thumping of San Marino in World Cup qualifying but Hodgson has said he expects the West Brom man to push him all the way for the first-choice spot.
Ridgewell, a former team-mate of Hart at Birmingham and currently at The Hawthorns with Foster, believes having both keepers at his disposal will be causing Hodgson a selection headache.
He told the Daily Mirror: "I know them both very well and they're both very good keepers.
"The two of them are brilliant shot-stoppers, good at kicking, good at talking and when you need them most they make that vital save.
"I'd hate to be Roy in having to try to pick one of them! I am sure it will be a very good competition between them. It is phenomenal to think there is someone ahead of Ben, we have two such good goalkeepers who both deserve to play in every game."
Ridgewell believes England, who face Montenegro on Tuesday, are fortunate to have two goalkeepers competing for the gloves and feels, like Hart, Foster deserved to be ranked as a world-class shot-stopper.
He said: "I don't see why Ben shouldn't belong in that bracket, he has been playing so well for a long period of time. He is easily an international class goalkeeper and I think he would get in most international teams in Europe.
"It's brilliant for England to have someone like that. It's just been unfortunate for him that England has two goalies at top-drawer level in Joe and him.
"I don't see too many other international teams that have the standard of goalie that England have got."