World Cup: England's Wayne Rooney not provoked by Miodrag Dzudovic
Miodrag Dzudovic claims he did nothing to provoke Wayne Rooney when England last met Montenegro.
Last Updated: 25/03/13 11:03am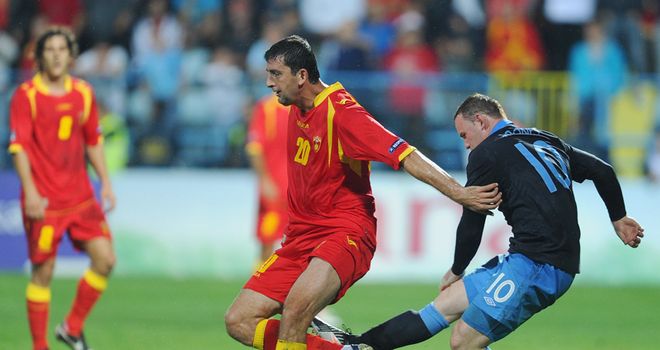 Manchester United star Rooney was infamously sent off for kicking out at Dzudovic when their countries last met in Podgorica in qualifying for Euro 2012.
But the defender, who is likely to start in Tuesday's game due to a suspension for Savo Pavicevic, does not hold any malice ahead of a rematch with England.
Dzudovic said: "I did nothing to provoke him (Rooney). We didn't say a single word to each other during the match.
"This was his moment of weakness. He is human, it can happen to anyone."
Dzudovic wrote a letter to UEFA to help reduce Rooney's three-match ban for his red card to two games ahead of Euro 2012 but he has yet to receive any gratitude.
Dzudovic added: "It was an initiative by the editor of the Russian sports newspaper Sovetsky Sport, who is a big fan of Manchester United and Rooney.
"I told UEFA it wasn't an intentional foul, that he didn't want to injure me, that I wasn't hurt and I wasn't suffering any consequences.
"I really meant it and I am glad I helped him. He didn't call me but I am not disappointed. I didn't do it for the publicity."
This week's game is crucial for England's hopes of reaching the 2014 World Cup in Brazil, with Montenegro currently topping qualifying Group H by two points.
And while Dejan Damjanovic thinks England are the stronger team, the Montenegro forward believes the Three Lions will have tough time in Podgorica.
"England are favourites but we know how to play them," Damjanovic told Vijesti. "We are good enough to beat them. They have better players but we will have fans at our side."