World Cup: Montenegro boss Branko Brnovic says England running scared
Montenegro boss Branko Brnovic claims 'long-ball' England are showing signs of fear ahead of Tuesday's key qualifier.
Last Updated: 25/03/13 10:48pm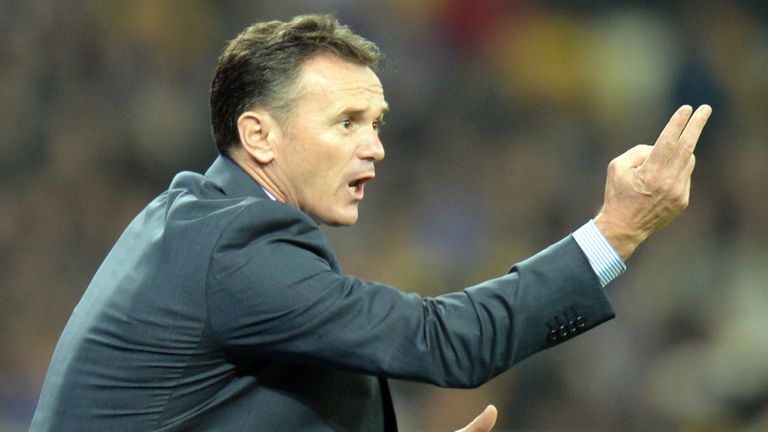 The dig at Roy Hodgson's side was one of a series thrown by Brnovic on the eve of a World Cup qualifier which could go a long way to determining the winners of Group H.
Victory would give Montenegro a five-point lead at the top, and there are suggestions the pitch could be heavily watered in the run-up to kick-off to aid their cause.
But Brnovic reckons his side have more to lose from an unsatisfactory surface and has accused England of running scared.
He said: "I'm reading statements from the English players about the way the pitch will look. As far as I know, the English have always favoured long passes and I can't see why they are complaining about this.
"We, with Stevan Jovetic and Mirko Vucinic - or England? It supports the fact they are more scared of this game than we are. They are also intimidated by our fans and I don't see the reason why."
Brnovic also warned England might have to rethink plans to hold friendlies against Germany and Argentina at the same time as November's World Cup play-offs and dismissed suggestions his players might attempt to wind up Wayne Rooney.
Rooney was sent off in a 2-2 draw in Podgorica in October 2011, and Brnovic said: "As far as I know Rooney was the one who kicked our player, not vice-versa, and I know both Jovetic and Vucinic always suffer strong kicks but never complain.
"I can say such English legends and also their journalists are trying to resort for excuses for what will happen tomorrow. Everything seems to bother them."
Striker Vucinic, meanwhile, took a swipe at a visiting defence likely to include Chris Smalling and Joleon Lescott - neither a regular starter at club level this season.
"I certainly do see that as a weakness," he said. "If they do not play for their own clubs, I do not see why the coach invited them to play."