Montenegro's Mirko Vucinic high on confidence ahead of England clash in Group H
Montenegro's Mirko Vucinic believes the pressure will all be on England in Tuesday's Group H World Cup qualifier.
Last Updated: 25/03/13 4:03pm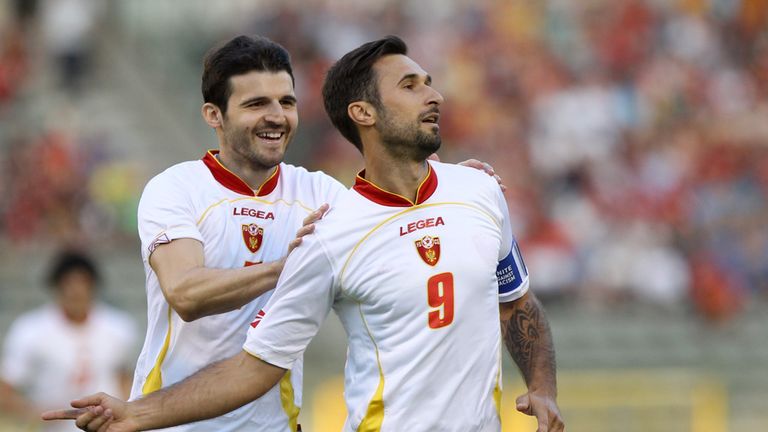 Vucinic has denied Wayne Rooney will be targeted on his return to the scene of his 2011 red card.
The striker was sent off when he kicked out at Miodrag Dzudovic during a Euro 2012 qualification match which led to England surrendering a two-goal lead and left him banned for the first two games of the tournament in Poland and Ukraine.
Montenegro are currently top of the World Cup qualification group with 13 points, two ahead of England, and they have only dropped points in a 2-2 draw against Poland in September last year.
They managed to beat Moldova 1-0 last Friday despite being reduced to 10 men and Vucinic feels his side are facing England in the best possible form.
"I think that we feel very well, considering the fact we played a very difficult game in Moldova which we won with 10 men," Vucinic said.
"That victory inspires us with a lot of self-confidence and hope against a strong opponent such as England, but we're not scared of them at all.
"They'll be five points behind if we win.
"It will not be our tactics to make him (Rooney) lose his temper. For sure, it would be in our favour if he's given a red card, but we will not be doing anything to provoke him or make him lose his temper."
In the other games in the group, Poland face minnows San Marino, who have yet to win a match and were thumped 8-0 at home by England last week.
Poland will look to bounce back from their 3-1 defeat by Euro 2012 co-hosts Ukraine in Warsaw, which saw them slip into fourth place behind their neighbours on goal difference.
Ukraine face Moldova in the other match, who fell to fifth in the group standings after their defeat by Montenegro ended their two-game unbeaten run in their bid to qualify for next year's World Cup in Brazil.