The FA is investigating allegations of racist singing by England fans
The FA says it has not found any evidence of England fans chanting an allegedly racist song in San Marino.
Last Updated: 29/03/13 6:20pm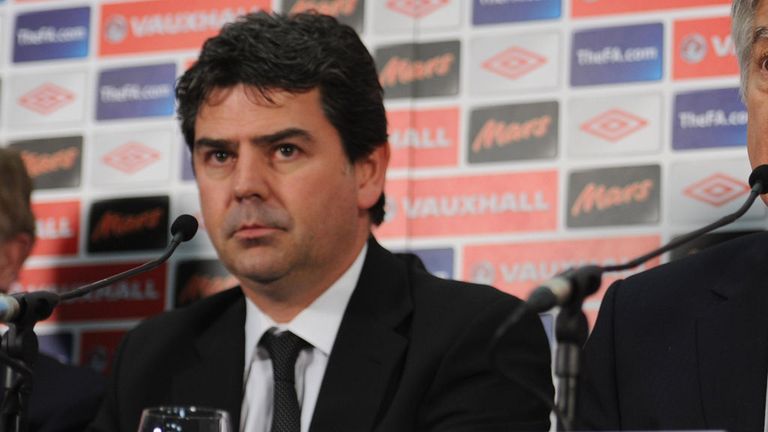 But the FA insists it is taking the matter seriously and will take action if evidence of racist chanting is uncovered.
Rio Ferdinand was targeted for abuse by England supporters after he controversially pulled out of the squad for the World Cup qualifiers so he could stick to a pre-planned training schedule.
And, according to reports, one group of fans joined in with a song that suggested Ferdinand and his brother Anton, also a professional footballer, should be burned on a bonfire.
Anti-racism group FARE has made a complaint to FIFA over the song, which it claims could be perceived as having racial connotations.
The FA's Club England managing director Adrian Bevington said: "We have no reason to dispute the media reports, which are without doubt made for the right reasons of fighting racism.
"But, at this time, we have not found any recorded evidence of the specific discriminatory chanting referring to Rio and Anton Ferdinand and the vile 'bonfire' song.
"We will of course continue to review all of our recorded footage.
Incident taken seriously
"The FA takes all incidents and allegations of racism extremely seriously. In San Marino, we had FA security officers monitoring the English supporters in the stadium. This includes recorded video footage.
"We recognise the importance of FARE's responsibility to report any incidents to FIFA. We will liaise with FIFA and work with them to assist any investigation.
"Should evidence of any racial chanting be found, we would expect action to be taken against any individuals. We would expect banning orders to be issued by the courts as a minimum penalty.
"We do not want supporters who chant vile or racist abuse following the England team and we fully recognise that we must continue to address any issues that arise involving our own supporters in the same manner we expect other nations to do so.
"We will not accept any racist chanting and we also call on those attending England matches at home and abroad to stop the 'No Surrender' chanting during the singing of the national anthem, both before and during games.
"We have made significant progress following the hooliganism that blighted the national team in 1998 and 2000. We must continue to maintain this hard work."