England captain Steven Gerrard 'desperate' to qualify for World Cup in Brazil
Captain Steven Gerrard says the England players are 'desperate' to qualify for the 2014 World Cup in Brazil.
Last Updated: 10/04/13 4:28pm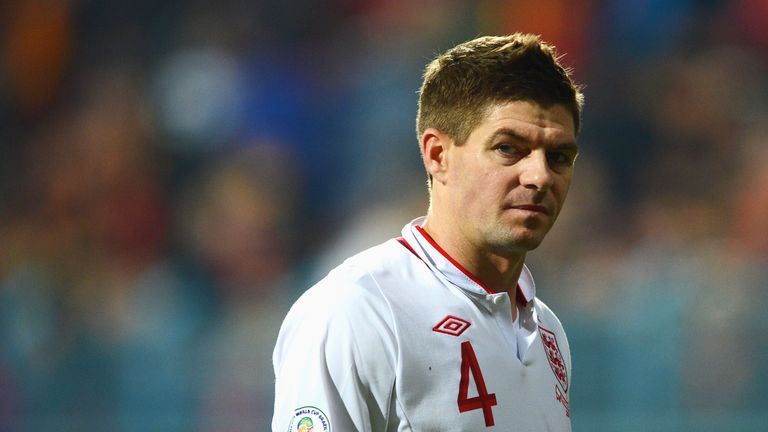 England are unbeaten in six games in Group H, but sit two points adrift of leaders Montenegro following last month's 1-1 draw in Podgorica.
However, automatic qualification for the World Cup is still in England's hands and captain Gerrard is determined to lead the squad to next summer's finals in Brazil.
"It's daunting," Gerrard told Sky Sports News about the year ahead. "There's no getting away from it. It's a huge year for the FA, it's the 150-year anniversary and what they're doing for the game and putting back in.
"In amongst that is a really big challenge ahead of us to qualify for probably the biggest World Cup there's going to be. There is no bigger place to have the World Cup than in Brazil, except for England for us players.
"We want to be there, we're desperate to be there and we're going to keep fighting all the way to the end, and give it everything we've got to get there."
Gerrard understands the recent criticism which came England's way following the draw with Montenegro, but he is adamant there are no easy games in international football.
When asked if the draw was a sign of England slipping back, Gerrard added: "I wouldn't say so.
"I think 10, 15 years ago if you'd said to me that Spain were going to win three major tournaments in a row I wouldn't have believed you because they were struggling to get past the last eight of tournaments.
"I think the countries in and around the big nations are all growing, they're all getting stronger and improving. They're putting a lot of money into the national game and every country is improving.
"I've said many times at this level there are no easy games. We beat San Marino 8-0 but you know those games can be tough and tricky, as we've seen against Andorra a few years ago.
"Still, we've got to take the criticism when it comes along and we don't perform as well as we should against these teams. We accept that."