England boss Roy Hodgson respects Rio Ferdinand's decision to retire
England manager Roy Hodgson respects and understands Rio Ferdinand's decision to slip into international retirement.
Last Updated: 15/05/13 5:08pm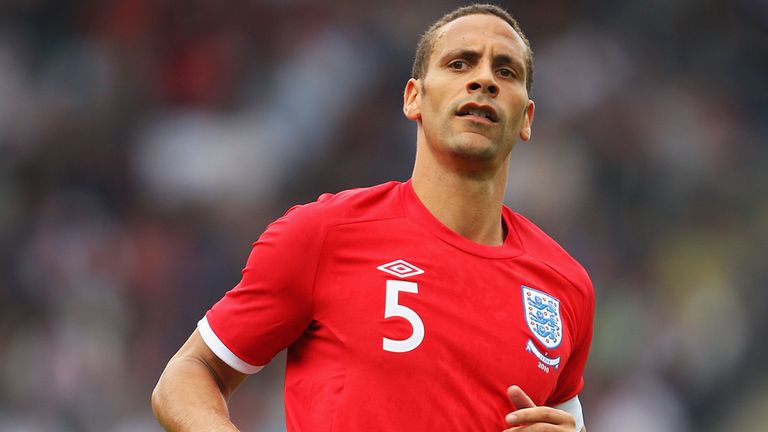 The Manchester United defender announced on Wednesday that he no longer wishes to be considered by his country, after earning 81 caps.
He feels that, at the age of 34, the time is right to step aside and let the next generation of talent cement their standing in the Three Lions fold.
Hodgson has been quick to pay tribute to Ferdinand and the service he has given England since making his debut in 1997 and agrees that it is important to now build towards a bright future.
He told Sky Sports News HD: "I obviously respect the decision, it was good of Rio to call me yesterday before I actually needed to select a squad and tell me that he would rather not be considered and that he thought it was time to retire.
"I think it was fantastic and admirable, and I agree with him that we do have a crop of interesting young players coming on and it's good that he accepts that maybe it's the right time for him to step aside.
"He has been a fantastic servant to the country and a fantastic servant to his club and has had a glittering career. I can only respect his decision and wish him well in the future and thank him for the very kind sentiments that he expressed with regard to the team and our future.
"He has been in contention. He was in contention for the last qualifiers but wasn't able to take part in those. But now that decision has been taken from me and I think it is best to let those things pass now and we should really concentrate on what Rio suggests in his statement - let's concentrate on the future, let's concentrate on the younger players who have had to stand back for a long period of time. It's their opportunity to get hold of an England shirt and show that they are good enough to wear it."
Asked if he had been left surprised by Ferdinand's decision, Hodgson added: "I guess I was. I didn't expect it, no. I don't know if anybody did. It's obviously something that he's thought about himself and he's kept his cards close to his chest. It came as something of a surprise to me when he called me, as it obviously was for the general public today when the news broke.
"But, as I say, I think he has done a fantastic job for both club and country, he's a player that I have always respected and admired, and I respect also the way he has handled this decision to retire. I can only hope that he is able to carry on for a number of years at a very high level and with the quality that he continues to show."
Form
While Ferdinand is bowing out at international level, another seasoned campaigner in the form of Chelsea midfielder Frank Lampard remains very much in Hodgson's thoughts.
Ahead of Wednesday's Europa League final which will see Chelsea do battle with Benfica, Hodgson suggested that the 34-year-old could continue to grace a Three Lions jersey for some years yet.
He said: "There is no reason to suggest he can't. We were very unlucky to lose him just before the Euros to injury. Since that time we have had a couple of occasions where we would have liked him to be with us when he couldn't be because of injury, but for the most part he has been with us all the time.
"He has maintained his form throughout the season - he has suffered a few periods where he hasn't been first choice, yet we're here at the end of the season and he's finishing so very strongly.
"I'm looking forward to having him with us when we play our next two matches, and from my conversations with him I know he's looking forward to it too."