England boss Roy Hodgson looking forward to challenge Republic of Ireland present
England boss Roy Hodgson is relishing the challenge of taking on the Republic of Ireland at Wembley tonight.
Last Updated: 29/05/13 7:04am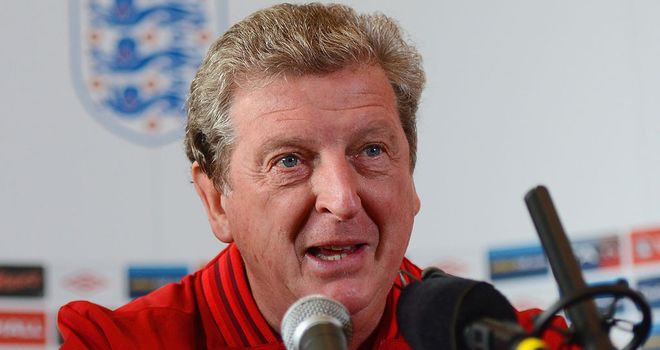 Hodgson's season comes to an end this week with back-to-back friendlies to commemorate the Football Association's 150th anniversary, the second of which is a trip to Rio de Janeiro to face Brazil on Sunday.
Although he is concerned about a lack of numbers in his squad, Hodgson says getting most of his key players together well in advance of the key World Cup qualifiers in September and October is an opportunity he has to make the most of.
"I'm looking forward to it very much. The Republic of Ireland have got a fantastic record, not least of all recently under Giovanni Trapattoni, because they have reached the major tournaments and they have shown that they are a difficult team for any opponent," Hodgson said.
"I look forward to all the matches we play at Wembley in front of our own crowd. It's very fitting that we now play one of the other home nations and in Ireland I know we are giving ourselves the type of quality of game which will help us prepare for our important qualifiers in September and October.
"We go back a long way and I regard Giovanni as a friend. I'm a great admirer of him and his CV, what he has achieved in his career is second to none. But when it comes to football matches now I spend less time thinking about pitting my wits against opposing coaches and more in terms of what quality the other team has.
"What I do know is that they are going to be very well organised, very competitive and they are going to be very well prepared for the game because every team I've seen of Giovanni's is."
Danny Welbeck's knee injury cuts Hodgson's options further, and the England boss hopes his fairly shallow squad will not suffer any further setbacks ahead of the trip to Brazil, which the Manchester United striker could be ready for.
Hodgson added: "Danny unfortunately at the moment is still suffering from that knee injury he had when he came and joined up with us on Sunday night.
"He's receiving constant treatment and we're constantly hoping he will recover from it, but it seems unlikely that will be in time. We still harbour hopes by the time we play Brazil on Sunday he'll be fit.
"I hope (17 outfield players) is going to be enough but we are vulnerable I suppose if we get some injuries as we won't have much chance to call up anybody to replace them, especially at this time of year when many players have gone away on holiday.
"I'm also happy that it's a tightly-knit group and it's players that I want to see play, and I'm not therefore under that sort of moral obligation that you sometimes have when you have a large squad and you take them away for a long-distance friendly, to give them some minutes on the field.
"In some respects if we can avoid injury it could work in our favour but I am concerned about the injury situation."