Internationals: England boss Roy Hodgson joy at reception for captain Ashley Cole
England boss Roy Hodgson said the crowd's reception for Ashley Cole fully vindicated the decision to make him captain.
Last Updated: 30/05/13 6:00pm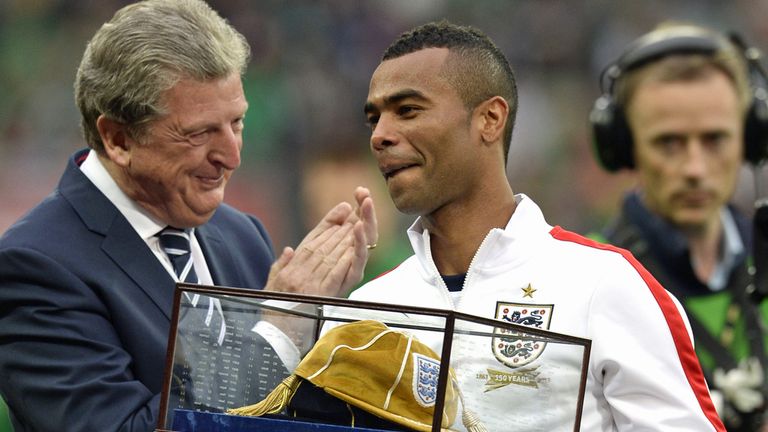 The Chelsea defender is not known for his outpouring of emotion but was delighted on Wednesday night having been handed the armband and receiving his ceremonial 100th cap before the 1-1 draw with Republic of Ireland.
Cole has not always been the most popular player with the England fans but enjoyed two standing ovations during the friendly at Wembley.
"I was disappointed people were suggesting we were not doing the right thing," said Hodgson. "Any fair-minded person would have wanted Ashley Cole to lead the team out.
"We know that Ashley isn't a captain of England, he doesn't pretend to be. But it would have been very sad had we denied him the opportunity to lead the team out on the day he received his 100th cap and show our appreciation of how well this man has done for England over the years.
"It was great he came off the field to such a great reception."
Ahead of Sunday's friendly in Brazil, Hodgson will not be calling upon the services of other players, despite the injury to striker Daniel Sturridge and the ongoing doubt over Danny Welbeck's knee problem.
Just 15 fit outfield players will be available to Hodgson if Welbeck fails to recover in time for the prestigious showdown at the Maracana Stadium.
"It is far too late to call anyone else up," said Hodgson. "We have been unlucky, haven't we?
"We were hoping to see Andy Carroll this time, hoping to see Danny Welbeck - although he is not ruled out of the Brazil game of yet, he may recover.
"But we haven't been lucky when it comes to our strikers. In fact, going into these two games we weren't that lucky with some of the players we were hoping to see and couldn't select.
"But every time a player can't take part it is an opportunity for somebody else."