Brazil v England: Coach Gary Neville wary of Neymar and ready for tough test
Gary Neville believes it is vital for England to experience conditions in Brazil and is expecting a difficult game.
Last Updated: 31/05/13 10:13am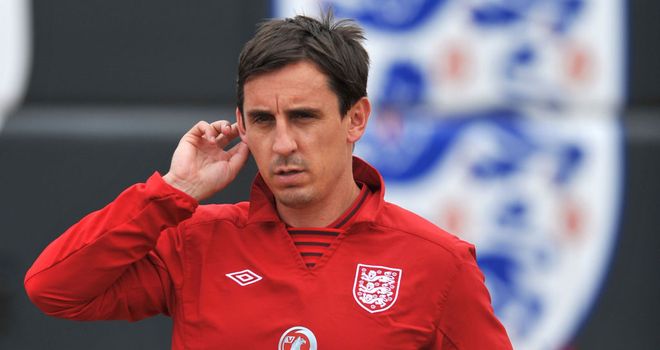 The friendly international has been given the go-ahead after earlier concerns about safety at Rio de Janerio's renovated Maracana stadium, which will stage next summer's World Cup final.
England beat Brazil 2-1 at Wembley in February but Neville appreciates that it will be hard to repeat that success and is particularly wary of the threat posed by new Barcelona recruit Neymar.
"Brazil always have wonderful, skilful players, so every time you play against a player you have to be very aggressive in your defending," Neville, a member of Roy Hodgson's coaching team, said on Sky Sports News.
"It is not just down to one person. The whole team has to be very compact, you have to try and crowd the space.
"You understand when you see a player like Neymar that he can turn a match in one moment because he makes football look so easy.
"It can be so close for 90 minutes and then he does one thing and you lose 1-0, so we have to be very concentrated."
England still have a lot of work to do to qualify for the World Cup but Neville insists coming to Brazil now will stand them in good stead should they reach the tournament.
He explained: "It is a critical experience for the players who haven't been here before to get used to the temperature, get used to the surroundings, to understand how difficult it will be to play against Brazil at 4 o'clock in the afternoon.
"It will be completely different to what we are used to and when we played against Ireland."