Frank Lampard praises England's display in 2-2 draw with Brazil
Frank Lampard believes England deserve a lot of credit for their performance in their 2-2 draw with Brazil.
Last Updated: 03/06/13 10:34am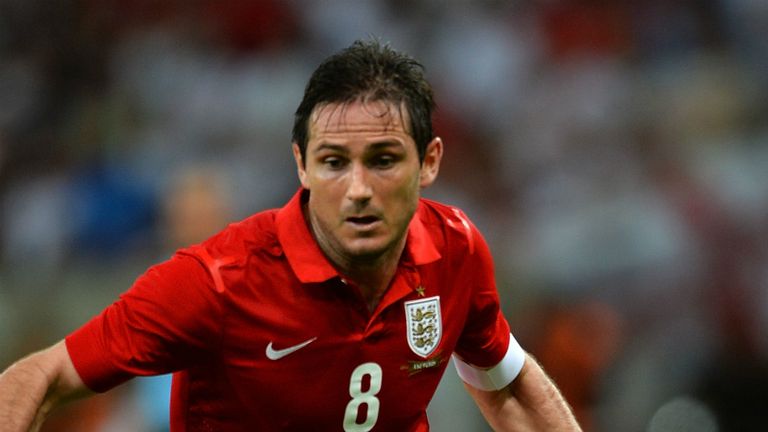 England were denied a famous win in the Maracana by Paulinho's late volley after superb goals from Alex Oxlade-Chamberlain and Wayne Rooney cancelled out Fred's opener for the hosts.
Lampard, who captained England, believes they can build on the display to help boost their chances of qualifying for next summer's World Cup finals.
"We have to take a lot of credit out of that," Lampard told Sky Sports News. "It is not an easy place to come here when they are desperate to win, they have been taking a bit of stick and all that it was a big game for them and we came here and gave them a great game."
Lampard also praised both goalscorers Oxlade-Chamberlain and Rooney for the quality of their individual strikes.
"Both of them deserve personal credit for their goals and obviously a little bit of shine taken off that it wasn't a winning goal, but it doesn't matter too much.
"Obviously we wanted to win the game, but a lot of credit for the performance. The big games are the ones coming up that we need points in.
Gary Cahill was pleased with his side's defensive performance after they soaked up a lot of Brazil pressure, especially in the first half.
"Defensively first half coming in at 0-0 when under so much pressure is encouraging and gives us a chance to go on and we could have won the game in the end," said Cahill.
Cahill's defensive partner Phil Jagielka admitted the conditions were a little testing, but hopes it was a good practice for next summer's tournament in Brazil should England qualify.
"It was warm, it wasn't absolutely roasting, but it was very humid," noted Jagielka.
"You look at most people's shirts they were absolutely drenched after ten minutes and you were a little thirsty, but it is a good practice for next season for the tournament hopefully we will have a few good games and hopefully be here in 12 months.
Roy Hodgson believes the draw should give England confidence ahead of the next round of World Cup qualifiers and said: "We're a work in progress. We face stiff opposition and have a lot of work to do before we can think about 2014.
"But I am very confident we can and games like this increase confidence and make us even more determined to be part of the party the World Cup will be.
"I do think we were well worthy of the draw. I was delighted with how we kept ourselves in the game and didn't capitulate despite them being clearly better than us in the first half.
"In the second half we were every bit as good and we should take lot of credit for that.
"Most teams, managers and coaches know that when you come to Brazil and play them they will have more of ball and create more chances. The question is if you can deal with it and come away with a result and that's what we did.
"The clever money would have had us struggling to get any sort of result, not least because of the trip and being down to the bare bones with injuries.
"But we were desperate to give a good impression and finish the season on a positive note. I'm delighted that was what we did."
Brazil coach Luiz Felipe Scolari added: "I hope England come to the World Cup. When I spoke to Roy I said I hope to see you at the World Cup and that we will meet again.
"But we know in Europe that is difficult, much more difficult than qualifying in South America where we have four or five from 10 teams.
"England are an excellent team who are well-organised but will be facing some difficulties to be the first in their group.
"In a group where you have 10 games if you make a mistake in one or two games you might have a problem to qualify automatically and you might have to go to the play-offs. I had this problem with Portugal.
"England are very good but they have to be very careful."