England Under-20s head coach Peter Taylor is "really happy" with his squad
England Under-20s head coach Peter Taylor has declared himself "really happy" with the squad he is working with.
Last Updated: 11/06/13 8:14pm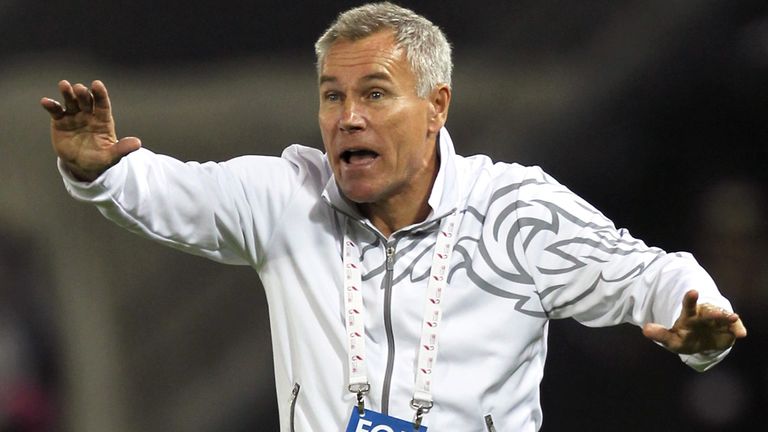 While Taylor's players have been preparing for their tournament, a disappointing European Championship campaign for Stuart Pearce's Under-21s has prompted plenty of talk about the make-up of that squad, with Alex Oxlade-Chamberlain, Phil Jones and Danny Welbeck all absent from it after being called up to the seniors for friendlies.
Squad composition was also a hot topic in 2011 when a host of players picked by England for that year's Under-20s World Cup - which took place later in the summer than this one - were subsequently withdrawn by their clubs and could not take part.
Regarding the group for this year's competition, though, Taylor has stressed he is taking a "good squad".
The 60-year-old, who has had two spells in charge of England Under-21s, oversaw the seniors as a caretaker for one game and was confirmed as Under-20s boss for the World Cup in March, told FATV: "I've been really pleased with everybody and we're going to take a good squad out to Turkey.
"Everybody's fit and raring to go and we're looking forward to the tournament now.
"This is the third training camp that we've had and every time we've met up the spirit has been even better so I'm really pleased with them.
"Overall, I'm really happy with the players that are getting on that plane."
He added: "We've got different types of player and the type who can ask a question of an opponent so I'm looking forward to it.
"The good thing about the group is that you can tell the players are friends, they've met and played with each other before so it's nice that they've been through the system at under-17 and under-19 level with England.
"That does help and not only are they friends but they're trying to push each other to be better players as well which is important."
Captain
Liverpool's Conor Coady has been named captain of Taylor's 21-strong group, which also features the likes of fellow midfielders Ross Barkley of Everton and Gael Bigirimana of Newcastle, and Tottenham striker Harry Kane.
Coady, 20, skippered England's Under-17s to the European Championship title in 2010 and has also played for the Under-16s, Under-18s and Under-19s.
He said: "It's fantastic. To be captain at any tournament is superb but to go and captain at a World Cup finals means I couldn't be any happier.
"We're focused going into the tournament and the team can't wait for it, to go and do the best we can.
"All of the lads are fantastic and good friends so there's a fantastic team spirit.
"We all know each other from previous England squads or playing against each other with our clubs."
England's Group E fixtures see them take on Iraq on June 23, Chile on June 26 and Egypt on June 29.