Andy Hinchcliffe understands why Glenn Hoddle would be wary of becoming Under-21 manager
Andy Hinchcliffe understands why an experienced coach like Glenn Hoddle would be wary of becoming Under-21 manager.
Last Updated: 12/06/13 6:14pm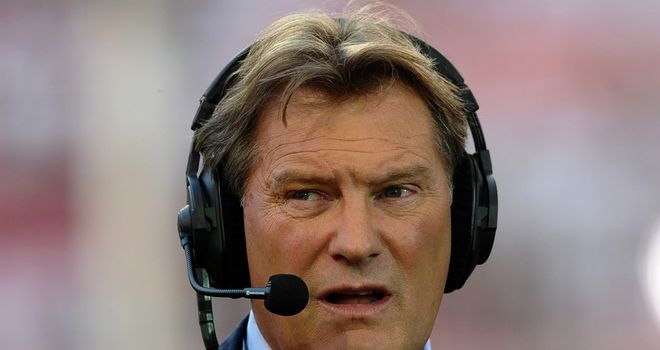 England's Under-21s have now flown back home from Israel after an abject series of performances which culminated in Tuesday night's 1-0 defeat by the hosts in Jerusalem.
Having bemoaned the absence of key personnel after losing to Italy and Norway, Stuart Pearce turned on the players he brought with him to the Holy Land after Ofir Krieff's solitary goal in the Teddy Stadium.
Pearce's contract is shortly due to expire and with little indication that the Football Association want to retain his services after six years in the job, a change of U21 manager is predicted.
Hinchcliffe, who represented his country at both Under-21 and senior level, says an inquest is needed after the steady decline of England at European U21 Championships since they reached the final at Sweden 2009.
"I think there's going to be major questions asked," Hinchcliffe told Sky Sports News Radio.
"In qualification, Stuart's done very well getting teams to the finals, but it's our record in finals which is incredibly poor. We've played 15 games in finals and only won four matches.
"I was there in Denmark in 2011 as well, and we seem to be going further downhill which is really worrying. You would think we would be learning lessons from Spain, Germany and Holland, seeing how these nations are playing the game, how they're developing - but we're going the other way.
"It puts Stuart in a difficult position. I'm sure the FA will assess his role, and we'll have to see how he feels about this tournament as well. I think he's been really let down by his players - he feels that the players have underperformed, even though the squad probably wasn't good enough to get beyond the semi-finals. He certainly expected better from this group. After the Israel game especially, he felt severely let down and he let them know that."
Former Middlesbrough boss Gareth Southgate is currently the bookies' favourite to take over from Pearce. Hoddle's name has also been mentioned in several quarters as a possible successor, although the former England manager distanced himself from the role on Tuesday.
Hinchcliffe appreciates why the man who gave him his chance at international level would be concerned by the obvious constraints and pressures placed upon an England U21 coach.
"Glenn is a fantastic coach, he's a great motivator, a good communicator and tactician," added Hinchcliffe.
"He's got everything you could possibly need. That's why he managed England at senior level. I enjoyed playing under him.
"But I think he would want to know the structure, and how the players are going to come through to him. He can only do his job with the players that he's given.
"It's about his relationship with the clubs and with the senior England set-up as well. He'll want to know that everything is in place to give him a chance of doing well as Under-21 manager.
"For Glenn, or anyone of that stature, it could prove difficult. However good you are, if you're just given a bunch of players and they're not necessarily your choice of players, it's very hard within a week to mould them into a team that can do well in major tournaments."