England plight not the Premier League's fault, insists chief Richard Scudamore
Richard Scudamore does not feel England's woes are a result of there being too many foreigners in the Premier League.
Last Updated: 03/07/13 9:42am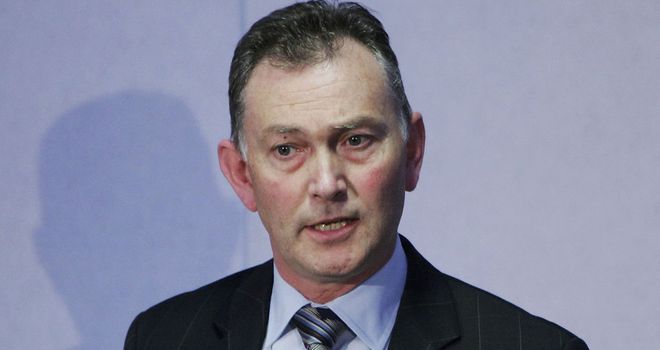 The country's Under 20 and Under 21 sides crashed out of international tournaments early this summer, while Roy Hodgson's senior team are facing a fight to qualify for the World Cup.
Hodgson has previously admitted that he would like more Englishmen to be playing in the Premier League, saying in April: "We have one of the lowest number of homegrown players to choose from in all the leagues, which, if you are national team manager, is not a great advantage."
However, Scudamore has rejected the criticism and insisted the high level of competition in the Premier League should be making the players available to Hodgson stronger.
Asked if there were too many foreigners in the competition, Scudamore said: "That's nonsense, absolute nonsense. There were 210 players qualified to play for England playing in the Premier League last year, and - by the way - they're all playing in the Premier League.
"And we ought to be able to find 11 to take the field to do well. Those players are playing week in, week out against the world's best talent. There are other factors at play, which are not our responsibility."
Hodgson had been keen for the Premier League not to schedule any high-profile matches before England's World Cup qualifiers in September and October but Scudamore maintains that the congested calendar did not make such a request possible, and hit out at FIFA and UEFA.
"We started with 22 (teams), we're now down to 20, and that's been the same for 19 years," he said.
"It's our international confederations that have squeezed the calendar, not us. So we really get quite bristly at the idea that, with the fixture calendar, it's somehow us being the awkward ones."